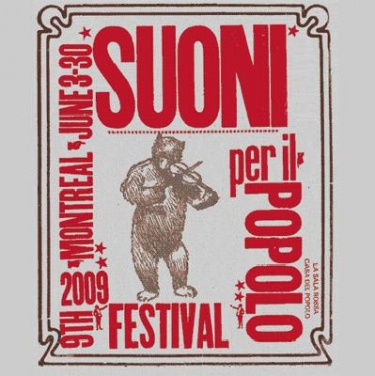 Nightly touring an edition of the Suoni per il Popolo Festival means visiting with audiences as diverse as the musical menu itself. Without fail, the annual Montreal festival that urges guests to "Liberate your ears" brought to the fore exciting and diverse programming in more than fifty events. Whether artists performed on stage or on the venue's floor, the scale of intimacy between them and the audience members was always palpable. The Suoni provides an atmosphere of exchange, making a place for the art of exploratory music to be lived and enjoyed without compromise.
Even with a mid-week start, the festival hit the deck running, with shows by, among others, Paul Metzger and Elaine Evans, Pas Chic Chic, and William Parker with Mike Wimberly. The first week was book-ended by the free Tools of the Trade Workshop Series. Jazz flutist Nicole Mitchell asked participants to consider how to navigate within improvisational settings in her Creative Improvising; and Pauline Oliveros hosted a packed and poignant deep-listening session with musicians and non-musicians alike.
The festival also included screenings of select music documentaries. Notable among these were My Friend Rain with director Robert Mills of the Climax Golden Twin duo; and the Canadian première of Proceed And Be Bold!, a documentary on radical U.S. printmaker Amos Paul Kennedy.
The Suoni and members of international research project Improvisation Community and Social Practice co-presented the colloquium Law, Justice, and Improvisation. Keynote speakers Nicole Mitchell, John Oswald, and Ingrid Monson asked the questions, "How might improvisation describe, judge, and regulate the law? What does or should law tell us about improvisation? What does or should improvisation tell us about law?"
Fred Longberg-Holm's Valentine Trio played two great sets. They paid tribute to Fred Katz and Sun Ra, and also performed their own pieces, including Balladesque and Maybe It's Too Late. The trio's musicianship, energy, and humility were genuine and exceptional.
Using a graphic score, Edgar Olivier Charles sat at his Fender Rhodes 73 with a laptop, and performed with intensity to an attentive room. Simple, warm chord progressions gave nod to Touch's Spire Series and past electronic music pioneers. Lovely.
Jonathan Parent took to the piano with mike and laptop to sing quietly while processing his voice and adding layers of piano. The resulting washes of sound were well composed and dramatic.
Playing several pieces from Radio Amour, among others, Tim Hecker built undercurrents of quiet melody upon textures of static noise, for which he is so well known. While this was not a virtuosic performance, the expressive quality of Hecker's work is compelling and translates well in a live setting.
The set by Eric Chenaux with Ryan Driver was understated and heartfelt. Inspired by the genre of true country heartache and by the work of avant-garde guitarist Derek Bailey, Chenaux's guitar playing and voice were slow and spare. The quiet gurgling and buzzing effects that Driver provided accented Chenaux's fretwork in the most complementary of ways.
The improvised interplay between members of the Oswald Trio was enjoyable. Germaine Liu's fluid performance style on drums stood out, exemplifying what it means to play, and to do so with bliss. Oswald played his saxophone quietly, building into lingering shades, joined by expressive trills articulated by Scott Thomson on trombone.
The level of skill and laid-back cool exuded by quintet Timeless Pulse was immense. Thomas Buckner literally shaped the sound rising through his mouth using his entire body. The timbre of his voice was remarkably unique. Oliveros drew rich flexible notes from her accordion while Jennifer Wilsey's bowed symbols and Eastern-inspired percussion gelled with the work of drummer George Marsh. On electronics, David Wessel's contributions were thoughtful and sensitive.
The following night the French trio Reines D'Angleterre gave a skillful performance, despite the imbalanced sound mixing of their set. One listen to Ghédalia Tazartès and it becomes clear that he has lived many lives, and—as with Thomas Buckner the night before—his voice extended from somewhere deep within his being. With electronics, Jo. T and el-g blended noise and tones that pin-pricked with the overarching schema, resulting in a strange and beautiful sound.
With all of this in mind, festival co-founder Kiva Stimac underscores the notion that from the start, the Suoni wanted to present "liberation music, which is a term that came from William Parker." This has "influence[d] the festival [and] really means that music can take you to a higher place [and] the idea of revolution". This environment has been fully cultivated by the Suoni, and it is thriving.