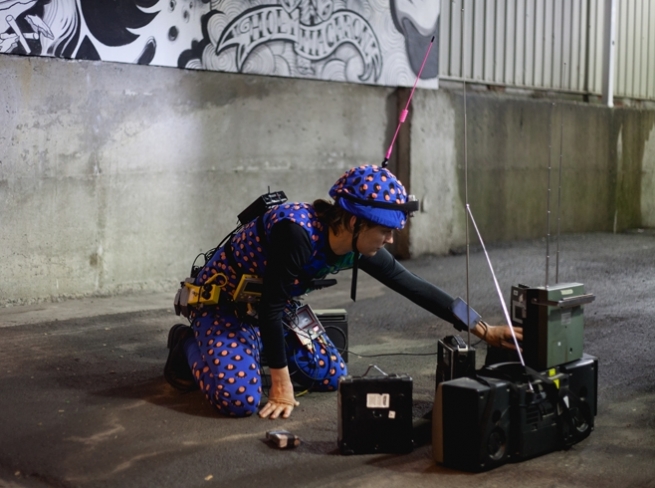 Long-running festivals conserve freshness by avoiding stale recipes based on previous successes. Montreal's Suoni per il Popolo retains the same inviting aroma as the nearby twenty-four-hour bagel factories. With 150 sets of music, film, and workshops spread over eighteen days of nonstop activity, borders between genres dissolve and unpredictable combinations coalesce. Guest curators Ken Vandermark, MV & EE and Alex Moskos injected their own stimulating discoveries in jazz, psychedelia, and weird rock, respectively, helping nightly attendees resist burnout.
A hybrid between big-band jazz and contemporary free improvisation materialized when composer and violinist Malcolm Goldstein was invited to lead a fifteen-member version of Nicolas Caloia's Ratchet Orchestra. Goldstein's compositions radically altered the group's approach, which usually rockets closer to Sun Ra's orbit. The evening started with players dispersed throughout the hall for The Seasons: Vermont Summer (1979), everyone contributing small improvised bursts to the nature-sounds emanating from a reel-to-reel tape. Soweto Stomp came closest to jazz, but my favourite was Two Silences, with the group blending into a single, constantly shifting texture.
A rare Canadian appearance by modern-opera composer and storyteller Robert Ashley was another highlight. Physically frail at eighty-three, his virtuosic solo speaking performance Love is a Good Example showed he has lost none of his wit and charm. Thomas Buckner sang Ashley's Tract, which resembled a dark opera with all text edited out, leaving just Buckner's melismatic anguish blending into the menacing taped electronics. Buckner and pianist Charity Chan performed a version of The Producer Speaks, tracking an icy train ride between two taciturn pianists on their way to a gig in France. The duo were joined by Marie Brassard and Alexis O'Hara for the closing World War III–Just the Highlights.
Composer Christian Wolff and Wandelweiser Ensemble are known for copious use of silence, and their performance with the Bozzini Quartet and Martin Arnold tested the audience's ability to remain quieter than the music, with mixed results. While the program notes emphasized meditative qualities, the concert proved that silence can also induce tension.
Composer-guitarist Rhys Chatham was joined by Brooklyn rock improvisers Oneida, each meeting the other halfway. The results were less organized and rougher-edged than most of Chatham's work, but the familiar wall-of-guitar overtones were ever-present. Chatham looked like he was having the time of his life, beaming changes in texture from his guitar and bouncing around like a punk rocker.
On the jazz front, French-American Peace Ensemble's debut revealed tenor saxman Kidd Jordan's restless energy, blasting terse signals to get his bandmates going early on. That prompted a blistering solo by clarinettist Louis Sclavis, while François Tusques' barrelhouse piano shone during a calypso-flavoured number. A few days later, Joe McPhee's solo set coincided with "Freedom Day," the anniversary of the abolition of slavery in Texas on June 19, 1865. He paid tribute to Don Cherry, while breathing noises on the pocket trumpet, and to Ornette Coleman, while honking on a plastic sax, and to Thelonius Monk, through a version of "Blue Monk" that slowly revealed its theme.
Suoni also included happenings unique to Montreal. Gambletron had a contact mike taped to her mouth and a Kaossilator in her hands, the beats and shrieks modified by a belt of guitar pedals tied around her waist. The racket was broadcast by a small transmitter amplified by an antenna pointing high above her head, turning her into a walking short-range FM station. She led a parade of about 150 midnight ramblers with radios through a giant bubble-bath machine in the middle of a park and into a disused indoor swimming pool. Inside the large, hard-surfaced space, the audience was treated to a reverberant drone piece from the French horn of Jen Reimer and the laptop of Max Sten, synched to a freaky light show by Adam Basanta.
Music is politics; Suoni does not shy away from that connection. Subtle hints of activism appeared everywhere, from Gambletron's instructions prior to her march, which referred to Quebec's Printemps Érable ("if we encounter the police, turn down the volume and pretend nothing is happening"), to the workshops' ideal of democratizing music. Other links were more direct; from the social justice rants of Toronto hip-hop artist Ian Kamau, to the live improvised paintings of Mazen Kerbaj, depicting the ongoing tragedy in Syria while accompanying Lebanese guitarist Sharif Sehnaoui. Yet another way the Suoni attempts to dissolve borders.
---
Image: Gambletron at Suoni per il Popolo. Image by: Thien V.