Send + Receive (s+r), a sound-art showcase held annually in Winnipeg, is curated around a different theme each year. Its acknowledged aims are to highlight the contributions of women to sound art, to develop an audience for emerging local artists, and to utilize different venues from one night to the next. This helps focus the programming, while maintaining space for esoteric interpretations of the theme—which, for this its sixteenth edition, was physical sound.
The festival's public sound-art installation was Donna Legault's Subtle Territory, which captured low-frequency environmental sounds just beyond the range of human hearing and used Pure Data (the open-source visual programming language) to draw them into audible form. Its placement on one of Winnipeg's most bustling blocks offered a steady stream of intrigued passersby throughout the weekend. Each of them contributed—regardless of whether they realized it or not—to the tone of the drone.
The opening night program, held at Actual Gallery, kicked off with a screening of
No Ideas But In Things,
a 2012 film about Alvin Lucier. Montreal sound artist
Erin Sexton
then jolted the audience to attention with
Phase Space,
a performance built around circuits running through chemical solutions to produce sound, which is tweaked by way of changes in concentration, temperature, and—surely—some less obvious variables. There was a visual element as well, with dry ice being used in the piece for the first time. A concurrent video projection was, unfortunately, blocked by Sexton's body due to the room's low ceiling.
Two British Columbia-based artists took the spotlight in Eckhardt Grammaté Hall, the venue for the second night. Sarah Davachi used synthesizers to build a swelling and compelling textural piece that was further explained during one of several artist talks at the festival; Jason Lescalleet used a characteristically peculiar array of equipment—including a laptop, reel-to-reel player, and amplified metal bowls—for a piece that started with a gentle rumble, then built into a thick clamour before suddenly giving way to an airy, beat-driven prepared section that carried the final minutes of the night.
Ellen Fullman (Musicworks #37), the s+r guest of honour for 2014, was the lone performer on night three. She built her adaptable Long String Instrument across the floor of the Ukrainian Labour Temple, an historic North End building with a fascinating past, and which is not a well-known performance venue, despite its gorgeous acoustic properties. The spacious room was packed for the Fullman performance, which featured unobtrusive accompaniment from cellist Okkyung Lee.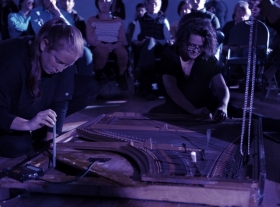 The final show of s+r took place at Media HuB. First up was local trio Burden, who play together on a soundboard pulled from a piano and rigged up with contact microphones. By doing away with the keyboard and much of the piano's frame, the group was able to coax unexpected sounds from the guts of this most conventional instrument. Some strings were adjusted in the prepared-piano spirit, while tools such as mallets and chains were used to strike, drag, and massage every crevice of the soundboard for a semi-improvised performance that felt fresh from beginning to end. Burden's performance was arguably the high point of the entire festival. Kiiln followed with an understated electroacoustic piece which turned out to be aptly placed between two visceral displays by Burden and the festival's closing duo.
That duo consisted of the aforementioned Okkyung Lee and dancer Michelle Boulé, the latter beginning the performance by flitting in and out of sight on an upstairs landing. Much of the audience saw only shadows until the dancer came downstairs, when attention suddenly shifted to Lee, who emerged from a dark corner to reveal that a chilling scratchy sound was being produced by dragging the endpin of her cello across the floor. Both performers moved about the room, Boulé literally dragging chairs around to carve a path through the audience, while Lee displayed technical prowess and an inspired appetite for experimentation. The only irritating element was Boulé repeatedly waving a work light just in front of the crowd, its luminance overwhelming enough to distract from an otherwise playful and spellbinding performance.
The 2014 edition of
Send + Receive
offered unpredictable but interesting treatments of the physical sound theme, and finished with a night of powerful performances.
---
Top photo of Ellen Fullman (left) playing her Long String Instrument, with accompaniment from cellist Okkyung Lee (right), at Winnipeg's 2014 Send + Receive festival by Robert Szkolnicki.  Photo of members of Winnipeg trio Burden at Send + Receive by Robert Szkolnicki.