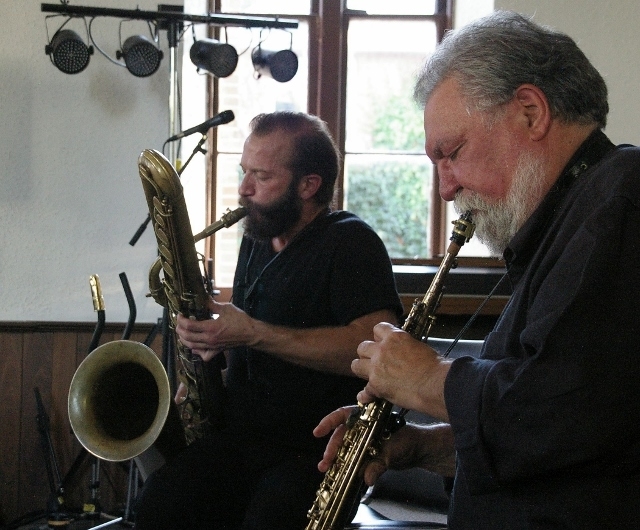 Storytelling of the verbal and instrumental variety was an important feature of this year's Guelph Jazz Festival. New venues such as Heritage Hall, Guelph's first black church, and the soft-seated Guelph Little Theatre added a feeling of intimacy to the festival's innovative programming.
Front and centre with tales, tall and otherwise, were multireedist Douglas Ewart and alto saxophonist Matana Roberts, both members of the Chicago-based Association for the Advancement of Creative Musicians (AACM). Audiences also heard music as cerebrally intricate as Evan Parker's soprano saxophone forays and as raucous as guitarist Marc Ribot's trio Ceramic Dog.
Ewart—resplendent in a black beret and a red coat, the buttons of which spelled out Sound on the front and AACM on the back—moved from instrument to instrument as he exhorted the audience. Like an itinerant preacher, Ewart produced a sham sermon on the ecological and political shortcomings of humans, while acknowledging the influence of Ornette Coleman on improvised music by stringing together, with impish wordplay, titles of many of Coleman's albums and compositions. Textural amplifications came with timbres ranging from piercing flute bites and forlorn oboe sniffs to a bamboo flute's gravelly rasps. Finally, he roamed through the audience blasting tones from his slide didjeridoo. While cellist Tomeka Reid, his duo partner, couldn't match him in stagecraft, she did so sonically, clipping textures to produce a rhythmic continuum or generating below-the-bridge stings.
If Ewart was a storefront evangelist, then Roberts—who literally performed from Heritage Hall pulpit—was the aunt whose family fables carried a deeper message. Roberts told of her trip to the American south where she unearthed details about her own roots, as well as about the experience of blacks from slavery onwards. Citing abolitionist Harriet Tubman, who guided slaves to Canada via the Underground Railroad, as her hero, Roberts linked the building's history to her own. At points she transformed audience members into a choir, as they hummed along to messages contained in her Coin Coin project. Appropriately, she illustrated her monologue with impassioned alto saxophone variations.
Parker showed what a reed can do in the quartet Rocket Science, which included trumpeter Peter Evans, Sam Pluta (eletronics), and Ikue Mori (drums, drum machine). With processed electronic sizzles purring contentedly underneath their improvisations, the horn players followed contrapuntal and solo strategies; the saxophonist's circular-breathed lines were often melodic, while the trumpeter's output ranged from watery squalls to laughing plunger farts. Their performance defined undulating cooperation, with no timbre out of place, although it was obvious every tone was improvised. Less fruitful was Parker's duo concert with bass saxophonist Colin Stetson. With soprano saxophone trills bouncing agilely in contrast with Stetson's lumbering squalls, Parker suggested baroque passages plus wispy air movement. Stetson seemed infatuated with the heft of his horn, projecting nearly opaque ostinato, one-part tone smears and one-part tongue slaps. His soggy blasts contrasted with Parker's intricate harmonics, and the two only connected in the concert's final section. That's when a near-foot-tapping melody was propelled in double counterpoint from the dinosaur-sized horn, with spittle-encrusted runs and clean trills from the mite-sized reed.
Graceful consistency was the hallmark of guitarist Mary Halvorson, who played at a late-night gig with bassist Michael Formanek and drummer Tomas Fujiwara as Thumbscrew; and was part of cornetist Taylor Ho Bynum's quintet during a concert on the festival's final morning. An extraordinarily clean player even when she introduces knob or pedal effects, Halvorson's bright fills often bared dulcet melodies couching rabbit-like within Thumbscrew's darker passages. With subtle allusions to rock, country, and flamenco, her supple fingering was complemented by Fujiwara's patterns propelled via felt-tipped mallets and wood-block slaps and by Formanek's chunky stops and pumps. Crisp without being fragile, the trio's compositions resonated with an air of perceptive swing. Indeed, "Swing" could have been emblazoned on Bynum's felt cap as he, Halvorson, Fujiwara, alto saxophonist Jim Hobbs, and bassist Ken Filiano sprinted through their set, with transitions sometimes indicated by small signs or hand signals. The quintet's creations locked together like Lego pieces, but with protrusions still noticeable, including psychedelic comping from the guitarist and the saxophonist's keening lamentations. With the nucleus preserved by Filiano's booming bass line and the drummer's understated tapping, enough space remained for solos like Hobbs' splintering free-form extensions or Bynum's bugle-like blares that met Filiano's power thumps. The result was as relaxed as it was refreshing.
Ribot's Ceramic Dog, filled out by percussionist Ches Smith and multi-instrumentalist Shahzad Ismaily, blitzkrieged through a late night set with pop-rock rather than jazz antecedents. Ribot fired off enough crunching runs and distorted tremolo lines to get some audience members shouting "Rock 'n' roll!" and spasmodically headbanging. Momentum built to such furious magnitude that Smith knocked over his auxiliary cymbals on two separate occasions. Roaming among electric bass, electric and acoustic guitars, drums, synthesizer, and vocal harmonies, Ismaily was the perfect utility player. Except for a supersonic variant on "Take Five," jazz linkage was stretched very far.
Pianist Kris Davis' set featuring Capricorn Climber (violist Mat Maneri, tenor saxophonist Ingrid Laubrock, bassist Trevor Dunn, and drummer Tom Rainey) was puzzling in an antithetical fashion. While each member played well, especially when Maneri gouged spiccato plucks from his fiddle or the pianist and saxophonist joined for an out-of-tempo duet, the performances appeared to trudge rather than jump. There were moments of dappled swing but, generally, the sparks were lacking.
You couldn't say the same about vibraphonist Jason Adasiewicz's Sun Rooms trio, featuring Ingebrikt Håker-Flaten's tolling bass lined and Mike Reed's adept rhythms. Four mallets in hand, Adasiewicz often came across like a circus acrobat, nearly missing the vibes-trapeze only to smash out the appropriate riff at the last second. With Reed adept at an assortment of beats, the trio performed with delicacy as well as rawness, frequently revealing note-perfect finesse wrapped in rough-hewn constructions. Sun Rooms may have offered the festival's most traditional set, but its skilful versatility, coupled with contrasting views of what constitutes improvisation characterized by Rocket Science or Ceramic Dog, is what makes this festival unique as it exposes jazz's diversity.
---
Top photo of Colin Stetson (left) and Evan Parker at 2015 Guelph Jazz Festival by
: Susan O'Connor
www.jazzword.com