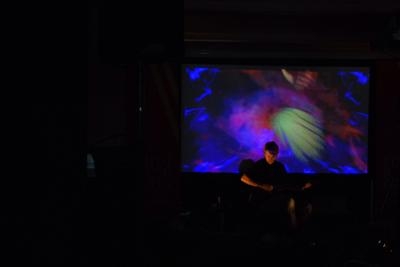 Since its inception in 2003, Helsinki's Flow Festival has become a major highlight of the Finnish music calendar. This year's seventh edition certainly didn't disappoint. Perfect summer weather, a unique urban site, top-notch programming, and careful execution combined to create excellent reviews and a record-breaking 50,000-plus attendance.
While Flow's programming is decidedly varied—genres ranged from hip-hop to techno, world to jazz—the festival's overall flavour is still distinctly indie and heavy on Finnish sounds; all united under the concept of what it means to "flow." The quality of invited talent for 2010 was clearly first rate. Mainstream seekers could take in the atmospheric tunes of French electronic artists Air or the gritty global pop of U.K.'s M.I.A. on the main stage, where they also got an earful of Finnish rhythm maverick Jim Tenor, and the groove-heavy chamber concoctions of Uusi Fantasia. Meanwhile, more adventurous listeners gravitated to the smaller performance spaces, which placed an increasing emphasis on local and experimentally minded artists.
For the past four years, the festival has been held on the site of the converted Suvilahti power plant on Helsinki's east docklands. Built in 1909, the plant was de-commissioned in 1980. Despite the odd site-specific art project or temporary film set, the property was left mostly unused until the early 2000s, when creative city thinking rekindled its popularity as an urban space for cultural activities. Everyone agreed that Flow's 2007 edition—the first to adapt its then three stages to Suvilahti—was a failure. But Managing Director Suvi Kallio and her team since have worked out the kinks. The site now successfully holds seven strategically placed venues, with the more sound-sensitive programming properly housed in converted indoor spaces. The overall success has been achieved by working in partnership with local architects, environmental consultants, designers, VJs, artists, and restauranteurs to deliver a hip and strongly green-themed design program that brings the quality of on-site planning, amenities, aesthetics, atmosphere, and services to a much higher level than that expected of most music festivals.
Flow's programming for 2010 especially expanded its experimental and audiovisual offerings. New this year was the Future Shorts series of audiovisual works in the freshly minted Film Garage, and the experimental Other Sound of Finland series curated by local musician, writer, and event-planner Juuso Paaso for the Tiivistämö stage. But other venues also offered new musical surprises. With acts starting in staggered seventy-five-minute sets, we had to be disciplined if we wanted to catch the best acts while also keeping our ears open for opportunity. Luckily, we also had the advice of Finnish Music Information Centre director Jutta Jaakola to guide us.
Given an already tight travel schedule, my travel mates and I only had one day—Saturday August 14—to take in Flow. Luckily for us, this was the best day for experimental music, heavy on new Nordic sounds. We started at the Tiivistämö with Grey Park. Housed in a set design by Finnish architects Grönlund-Nisunen that looked like an exploded Dan Flavin light installation, this electronic drone unit delivered waves of complex sound, blanketing the small audience crashed out on fatboy pillows with layers of melodic atmospherics. Live use of vuvuzelas (South African plastic horns) cut through the colour-tinged light and smokey haze with a sound now familiar thoughout contemporary global culture, thanks to their use throughout the 2010 World Cup soccer tournament.
We were dragged away from Grey Park by our Finnish guides to go and hear KXP, the new experimental concept from electronic artist Timo Kaukolampi. Our hosts were unsure what to expect from this local superstar, who reconfigured his act with a bass player and drum duo. The sound was remarkably dark and pulsing. Nerve-wracking electronics merged with pounding industrial and grungy metal influences. Emerging sonics and fragments seemed almost improvisational, but the structures stayed tight and motorik. The Finns seemed pleased with the result, if the nodding heads and dancing were any indication. But no time to stay; we were ushered off to the cozy Film Garage to capture jazz guitarist Kalle Kalima's Pentasonic live video-music project.
Circled by an array of video cameras and effects pedals, Kalima demonstrated an excellent grasp of his instrument, creating layered, looping counterpoints that melded with a surrounding audiovisual world heavy on psychedelic influences. The effects were remarkable but not impressive. I was so distracted by Kalima's (unintended?) references to other artists working in this vein—Andy Moor and Fred Frith immediately came to mind—that I couldn't really get into his aesthetic.
We decided to camp out in the Tiivistämö for the rest of the day, to get more than an earful of that other Finnish sound. Laptop artist Ona Kamu entered the architectural light experiment to unveil her mesmerizing Elektromys project. Inspired by the electric signals generated by the human nervous system, her compositions merged cavernous sounds with deep bass washes, glitchy clicks and rhythms, medical instrument scrapings, nervously buzzy mid-drones, and synaptic flashes of sound. I was reminded of other medically inspired projects like Matmos' Deepest Cut. But Kamu's music was so carefully crafted, symphonic in scope, and all-enveloping that the now full house couldn't help but be mesmerized.
The crowds really showed for Lau Nau, another solo female artist who created her one-woman band from electric guitar, laptop, toy percussion, and voice. Her sound blended folk influences into experimental improv and densely textured soundscapes to create a range of expressions from ambient lullabies to complicated sonic rages. But Lau Nau felt like an odd fit with Grey Park and Ona Kamu. Her structures were more traditional, her sound sources more earnest. Still, Lau Nau was in keeping with what I already knew of prevailing new Finnish sounds found on Scandinavian labels like Häpna, which explains her popularity.
Just as the frenetic free-jazz trio Taco Bells was finishing up its set, we decided it was time to head to the festival wine bar and meet up with our Finnish friends to compare the day's audio journeys. Strolling past the Voimala Club stage we saw a huge line-up for the early evening act—chamber pop prodigy Owen Pallett, the only Canadian among the ninety-plus acts featured at Flow. It was good to know that our home talent can pack them in in Helsinki.
---
Image: Flow Festival. Image by: Colin Ripley.