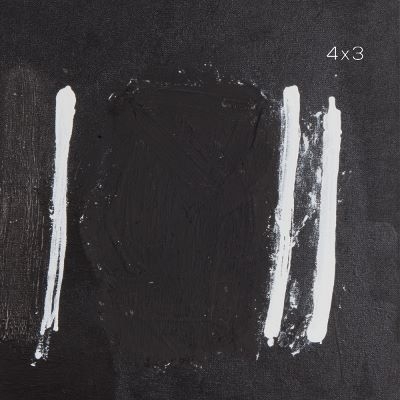 This is a trio of Montreal improvisers with an unusual configuration of instruments and a rich, if not that well-known, backstory.
John Heward has a long history as a drummer—including partnerships with saxophonists Joe McPhee, Glenn Spearman, and Joe Giardullo—as well as a distinguished career as a visual artist; his drumming possesses the same qualities as his paintings, a subtle, organic mingling of minimalism and abstract expressionism, achieving great depth with a sometimes-limited palette. Michel Bonneau is a percussionist whose instruments include congas and balafon. His credits reach back to Mali-born guitarist Yaya Diallo's Montreal-based ensemble of the early 1990s. Trombonist Scott Thomson navigates through all of this percussion, contributing to the layered, conversational exchange of rhythms.
The three musicians are all members of the large-scale Ratchet Orchestra, but they also play together in Heward's Murray Street Band, an improvising ensemble that occasionally performs publicly but plays weekly in Heward's studio. While the group could sometimes be a big band (a 2016 concert presented a seventeen-member who's who of Montreal improvisers), this recording grew out of a period when only these three musicians were attending regularly. There's no sense of missing parts: the trio achieves a tremendous intimacy and a flowing unselfconscious attention to detail.
The kinship of the two percussionists is immediately apparent on the opening I, a burbling knitwork of minimalist balafon melody and rattling metallic drum rims that ebb and flow through subtle shifts, the drummers' airy syntax eventually matched by Thomson's astonishing burbling trombone: he tongues through the instrument's registers at such a rate that it resembles light, high-speed drumming, ultimately resolving into blustery, declarative melody against conga and snare. Thomson manages to have it both ways here, sometimes surrendering his tonal fluency to become one with the percussion, at other times dancing from whispered highs to flatulent lows in a celebration of his horn's mobility.
While the pieces occasionally touch on genres (III suggests a Salvation Army military hymn but ends in sonic reverie), the ultimate IV has a subtitle, Toward Bamako, a reference to a Roswell Rudd composition quoted within. It's an explosion of Carnival-esque exuberance, a continuously melodic and polyrhythmic trip from initial promise through celebration to repose.