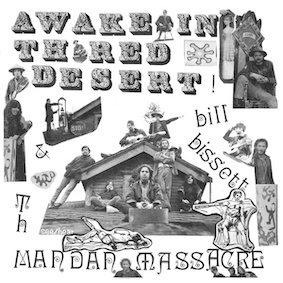 The first release from Feeding Tube's Unknown Province reissue series of Canadian cult classics, which is being curated by liner-notes author Alex Moskos, is a time capsule from a true freak scene. Recorded in 1968 by pioneering sound-and-concrete poet Bill Bissett after arriving in Vancouver from Halifax, the album finds his sundry gang of poets, visual artists, and musicians in Th Mandan Massacre constructing a perfectly lysergic backdrop for their lead agitator's possessed delivery: growling like a streetcorner doomsday prophet, jabbering like a preacher speaking in tongues, and repeating single lines until they become smeared syllables of sound.
There are three basic modes on Awake In Th Red Desert: Bissett unaccompanied; backed up with the kinds of out-rock incantations that groups like Sun City Girls and the No Neck Blues Band would summon decades later; or warped with tape loops and Buchla synth by Massacre member and engineer Wayne Carr. The band settles into a wasted groove on "Arbutus Garden Apartments 6 P M" and tiptoes into the hushed acoustic guitar of "Yu Sing," but these relatively straight moments are few and far between. Most harrowingly hypnotic is "She, Still and Curling," in which Bissett's mantra-like uttering of the words "supremely massage" are layered over a flatly spoken monologue and back-masked vocal loops in a parallel yet distinct style to John Mills-Cockell and Blake Parker's work with Intersystems the same year.
The claustrophobic tension of Awake In Th Red Desert reaches a boiling point on "Now According To Paragraph C" as its electronics and clattering percussion collide, before "She's a Very Good Cook" closes the fourteen-song cycle with a food fiend's fantasy of condiments poured into and onto body parts. With a new book due in 2019, Bissett continues to challenge notions of how words should be spoken and written. Fans will be delighted by this definitive edition of his underground opus.