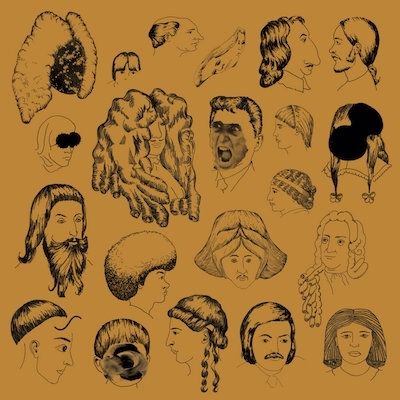 The psychedelic era's unprecedented explorations of studio technology birthed a fruitful concept that has since infiltrated many genres of recorded music: the collision of music performance and collage tactics.
Toronto's Badge Epoch—a slimmer variation of the Badge Époque Ensemble—seems to be conjuring that era's spirit of freewheeling discovery (and to a certain extent its sounds) on their double-LP Scroll, the contents of which were captured at various sessions over an eight-year period by leader Max Turnbull (of Slim Twig and U.S. Girls infamy). These assorted pieces are woven together by Turnbull and expert collagist Andrew Zukerman, who brings his own stash of abstract nuggets to the table. The stylistic orientation and cast of musicians vary considerably across the ninety-minute runtime, but Zukerman's unmistakable and eccentric touch gives rise to a context where even the most radical of juxtapositions lands gracefully.
Scroll opens with a panoramic and decidedly cosmic scene, but eventually the synthetic pads and squiggles dissipate, allowing a viscous mass of freak-funk to plod into the foreground. A chewy, knotted counterpoint of wah-wah guitars and clavinets writhes over taut drums as Andy Haas unleashes a blistering, effects-slathered sax solo. The next track, "Personality," sees the band-feel disappearing altogether in favour of analog chirps and field recordings but as it unfolds, toy-keyboard drums slither from the shadows, ushering in a seedy, uptempo sci-fi mirage. "Perception Supremacy" follows with musique concrète-style gesticulation, giving way to "Consensus Reality," a crunchy, cosmic, flute-led rock-out.
This first side provides a blueprint for the album's unruly remainder. Curious electronic excursions—from ambient to unsettling grooves—collide with bands of various permutations including both the Cosmic Range and the Badge Époque Ensemble, groups of which Turnbull is a member. Turnbull's production and compositional sensibilities demonstrate a clear penchant for particular—often older—styles of music, yet it's also clear that he has little interest in re-creating these idioms faithfully. He'd sooner let his sounds get a bit overcooked than follow a recipe. The resultant studio-charred edges impart all manner of unusual and delicious flavours.