TORONTO, CANADA, March 8, 2019. For immediate release:
Musicworks is thrilled to announce the winners of its 2018 Electronic Music Composition Contest.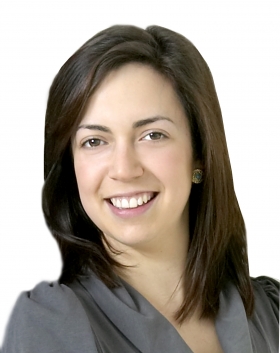 U.K. composer Manuella Blackburn (left) has won first prize with her composition Landline. An article about Blackburn will appear in Musicworks 133 (Spring 2019), available by subscription, from Musicworks' shop, and on select Canadian newsstands (April 1, 2019).
Landline will be included on the Musicworks 133 CD.
This marks only the second time in the contest's history that a woman composer has won first prize.
"I feel incredibly honoured that my work has been chosen among all these submissions," Blackburn commented. "I'm happy that this news can align with International Women's Day to promote and highlight women composers."
Blackburn refers to her winning piece, Landline, a "time hop" back to an earlier era. "This work is particularly significant to me as when making the music I tried to cultivate a childhood sound memory of an old-style rotary telephone we had in the home."
Manuella Blackburn has been composing for over 12 years and has created a wide range of electroacoustic music works for instruments and electronics, fixed media, sound installation work, music for dance and for film. Manuella is a Senior Lecturer in Music at Liverpool Hope University.
Stories about all the contest winners will be posted on musicworks.ca in the coming weeks.
---
2018 Electronic Music Composition Contest winners
First Prize ($500): Manuella Blackburn (Manchester, U.K.) for Landline.
Second Prize ($200): Chroma Mixed Media (Vancouver, B.C.) for Water.
Chroma Mixed Media is Katerina Gimon, David Storen, and Brian Topp.
Third Prize ($100): Epa Fassianos (Athens, Greece) for Chromatocosmos.
Honourable Mention: Elliott Lupp (Michigan, U.S.) for Hinge.
Honourable Mention: Bekah Simms (Toronto, Ont.) for Skinscape.
---
"For the first time in the contest's history, we decided to present honourable mentions to additional compositions that caught the jury members' curious ears," said Musicworks editor Jennie Punter.  "The Electronic Music Composition Contest is our most exciting outreach activity, and this year's batch of strong entries was an adventurous sonic journey around the world."
The eighth edition of the annual contest drew an impressive array of more than 150 entries from Canada, the U.S., U.K., Portugal, Argentina, Greece, Italy, Austria, France, New Zealand, Ireland, Spain, Chile, Serbia, Poland, Mexico, Turkey, China, the Netherlands, Japan, Norway, and Germany.
Musicworks thanks the 2018 EMC Contest jurors, composers Scott Smallwood (U.S. / Edmonton) and Amy Brandon (Halifax).
Musicworks' 2019 Electronic Music Composition Contest opens AUGUST 1, 2019