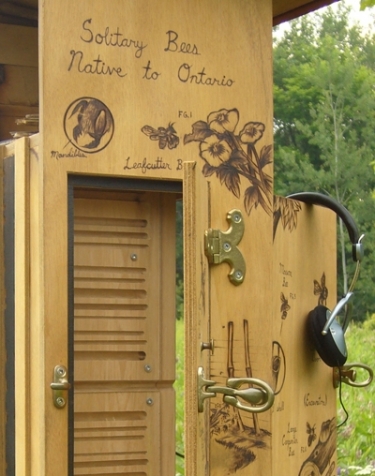 FULL-TEXT AVAILABLE IN PRINT EDITION ONLY
Pollination Wunder Station is a wunderkammer—cabinet of curiosities—full of fascinating living things. The piece is part habitat interpretation, part bio art, part sound installation, and part sculpture. It is one in a series of audio bee booths that are amplified habitat installations for solitary nesting bees and wasps. These works express my conviction that, in order to perceive the connections between our actions and their consequences in nature, we need to cultivate a mental image of biodiversity, and that this is best done using all of our senses while immersed in the outdoor environment with which we seek to connect. The dynamics of pollination ecology—a cornerstone of the biosphere as well as of our food security—can be more easily perceived and understood through extending our senses, especially when we pair sound with visual observation. 
Read more in the print edition.
Image: A close-up of the side of the station. Image by: Sarah Peebles