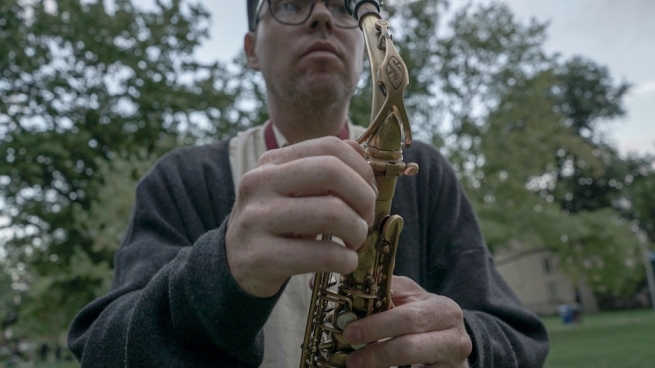 People love a good Jekyll-and-Hyde story, and when it comes to artists, the extreme disparities between their personal and creative lives offer endless fascination. These supposed paradoxes affirm the specious belief that artistic expression magically transcends selfhood. They're also the pillars of personality cults, painting artists as fundamentally complicated and misunderstood people—exceptional beings occupying their own plane of existence. In experimental music, Morton Feldman is the classic case—his hulking presence and uncouth manner are commonly contrasted with the unfathomably patient, delicate music he produced. Japanese noise veteran Merzbow's politicized veganism and auditory violence are similarly framed. Frank Zappa's "mad genius" reputation hinges on perceived friction between his hardline antidrug, anti-alcohol stance and his music's flamboyant, stoner-friendly wackiness.
Toronto composer and alto saxophonist Brodie West is practically the opposite of all this; his work and disposition are uncharacteristically harmonious. The congenial unruliness and subdued eclecticism of his various expressions are like a direct and irrepressible extension of his personality. West is more apt to weave himself into the aural fabric of an ensemble than to position himself as its protagonist—even when he's leading. He speaks carefully but generously, retroactively annotating some statements, leaving others half-finished. His musical phrasing is nearly identical: fragmentary, oblique, yet always arriving at a roundabout coherence. When presented with questions pertaining to his sensibilities, he isn't evasive, but prefers to travel the scenic route, hesitant to oversimplify things. The musical analogue is a key feature of his work: the self-conscious meandering quality that seems to stem from neither deliberate eccentricity nor self-consciousness in and of itself; in other words, his peculiar way of inhabiting the flow of the music.
Born in 1975, West grew up in Nanaimo, British Columbia. Music was a part of early childhood, but mostly in the form of cassettes played in the background by his mother. This shifted in the sixth grade, when he selected instruments for music class. West eagerly volunteered for drums or guitar, but was conscripted into playing saxophone. It might not have been his first choice, but having a tool for his own musical agency whetted an insatiable creative appetite.
West's immersion in music was met with great enthusiasm from his grandmother Lorna, a dedicated amateur musician. "I started saxophone and immediately my grandma wanted to jam," he recalls. Lorna owned stacks of sheet music, and she and he would casually riff on classics like "Georgia On My Mind." Their sessions began with just them, but the ever-gregarious Lorna was soon inviting others to join in; after a chance meeting, she corralled a security guard named Jerry Triska—a saxophonist who'd played on 1960s rockabilly recordings—into being their special guest. The following year West started private lessons. His teacher's approach was methodical but also left ample space to cultivate an individual voice. West concedes that he could have been more diligent with the mechanical side of practising; but his ears were sharp and inquisitive, and his listening regimen fostered a mature musicality. Keen to learn, he seized every opportunity, whether it was music camps or retreating to the band room with school friends during lunch hour. He even sought out new-age pioneer Paul Horn for additional lessons.
Tania Gill met a fifteen-year-old West when she was studying classical piano at the University of Victoria. She had taken an active interest in pursuing jazz, and mutual friend Monica Fedrigo suggested the three of them look through some standards. "That was the most fun I'd ever had, at that point, playing jazz," Gill recalls. "I experienced a new level of musical interaction and dialogue that felt somewhat mysterious or magical and very compelling to me." Not long after, Gill hired West to play her first ever jazz show at a café in Victoria, laying the groundwork for a collaborative relationship that remains to this day. "He sounded like late '50s John Coltrane by age sixteen or seventeen, except he was playing alto. I have the recordings," she enthuses.
West soon secured his own regular gig at Earl's Restaurant in Nanaimo, earning $50 a week, which financed his music collection directly. The various educational programs he attended also generated rewards. The Lionel Hampton Jazz Festival in Idaho awarded him a soprano saxophone, and in 1993 he received the Rising Star Award at Musicfest Canada, which included a full scholarship to Humber College in Toronto.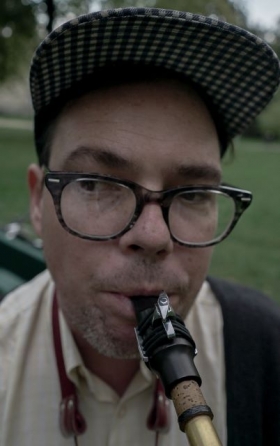 Humber gave him the opportunity to continue pursuing things more intuitively, taking only private lessons and ensemble credits. Pat LaBarbera and Don Thompson, his two primary instructors, offered complementary pedagogies. LaBarbera's meticulousness meant that "he could teach anyone to play well," West says, while Thompson was less theoretical, focusing on routine musical interplay, reticent to demystify music too much. The intervening summers back in B.C. were almost as educative as school. Lorna's place in Victoria served as home base, where he'd host regular listening sessions with Gill and bassist Brent Tanemura, before the three would head out to rehearse. Wrapping up at Humber marked a change for West. The cerebral and systematic bent of certain parts of his training elicited questions. Playing jazz had started as a gut-driven pursuit, but studying it in such a codified form made him curious about alternate ways to nourish his practice. He started rooming with Toronto drummer Dave Clark, who had recently established the Woodchopper's Association, an ever-expanding sprawl of musicians that improvised (and still do) under Clark's beaming, playful guidance. West was welcomed into their fold, which brought new aesthetic vistas and myriad contacts.
Discovering the Dutch school of jazz experimentalism via the Clusone Trio (Han Bennink, Michael Moore, and Ernst Reijseger) was an even greater watershed. Their work felt provocative and completely new: stretching the jazz idiom through Dadaist humour, genre tourism, and free-form exploration. The relationship to tradition was beguiling yet liberating, and anything seemed up for grabs, even notions of good and bad taste. For West, it represented musically staying "honest to who you are, as opposed to wearing something that looks cool." Compelled to investigate these issues, in 1998 he formed his own trio, Zebradonk, with drummer Shawn Abedin and trumpeter Alfons Fear. Its ethos was a youthful and brashly rebellious take on the Dutch school. West describes an in-store gig at the Toronto HMV superstore where he spent a considerable amount of time meandering haphazardly through the sales areas and travelling from level to level in the elevator. "We didn't just do a gig hoping we'd get asked back," he recalls. Performances were improvised, but sounded composed, and often had theatrical leanings. Auxiliary instruments—such as West's banjolele, a gift from his grandmother—were often played, but the trio's mischief-making was not a gimmick; it was fundamental.
In 2000, after finding out that fellow local weirdoes Guh had toured Europe busking, the trio set off to do the same after recording their first disc. Zebradonk didn't realize how easy it would be to access their cherished Dutch luminaries. In Amsterdam's revered jazz venue the Bimhuis, they ran into Han Bennink, who welcomed them with his characteristic warmth and encouraged them to attend his show two weeks later. When the young trio hurried back to Amsterdam, the gig—with American greats Von Freeman and Johnny Griffin—was sold out. Bennink heard of their disappointment and burst out to usher them to front-row seats. Bennink's openness and generosity left a major, heartening impression, and West was eager to delve more deeply into improv upon returning home.
Although West espoused deliberate transgression, certain improvisers in Toronto's community caused him genuine shock. Nothing had prepared him for Eric Chenaux's purposeful purposelessness and rustic reductionism. "Learning jazz was for me about how to use your ears in order to absorb all these different contributions, respecting the tradition," he says, recalling his mindset back then. "For someone to say, 'I'm gonna fuck it around by putting this concept in front of it' worked against that flow." West gradually came to recognize their shared impulses: the aversion to flashy virtuosity and fascination with new aural perspectives. His irritated perplexity precipitated a more compositional outlook, and a heightened awareness of how to treat material. Chenaux became a close collaborative ally.
West returned to Amsterdam for two months in 2002, during which time he studied composition privately with Misha Mengelberg, who nurtured this newfound appreciation for conceptual abstractions and a skeptical creative process. West had also hoped for some lessons with Bennink; the drummer politely declined but offered to arrange duet concerts instead. Sparring with him before an audience proved equally instructive for West, and their fresh dynamic was noticed by noted members of the local creative music community.
In 2005, West and Heather Lee, his new wife, took a strategically extended honeymoon in the Netherlands under the auspices of a working-holiday program whereby Lee could work and West could resume his studies. Over dinner one night, Han Bennink, along with Terrie Hessels of the wayward punk stalwarts the Ex, regaled the curious couple with stories from a recent trip to Ethiopia. Hessels mentioned that he was returning to Addis Ababa later in the year and invited them to come along. The trip's purpose was to reconnect with Ethio-jazz saxophone legend Getatchew Mekurya, who was about to lead a new collaboration with the Ex. West recalls later sitting mesmerized in Addis Ababa as Mekurya unveiled his new compositions one at a time, unaccompanied, in a hotel room.
Upon their return from Ethiopia, Hessels invited West to join the Ex's expanded lineup. "After all the Ethiopian eating and the stories from us and Han, who we took to Ethiopia four times, West was curious to go," notes Hessels of their initial encounter. "After going, he had lots of interest in Ethiopian music—he heard a lot over there! When the Getatchew story began, it seemed obvious to ask him. He got on with Getatchew very well from the beginning. West's sense of humour has some Ethiopian layers!" They played more than 100 concerts across Europe, North America, and of course Ethiopia, hitting every sort of musical festival imaginable, sometimes sharing the stage with revered Ethiopian artists like Mahmoud Ahmed and Mulatu Astatke. They also produced multiple recordings for Ex's Terp label.
West found that his accompanimental role in the horn section came with boundaries quite different from those he experienced as a member of Alex Lukashevsky's mannerist post-punk outfit Deep Dark United and as a guest artist on several pop records. Although he initially felt constricted within the five-note Ethiopian scales, he rapidly derived excitement from gliding across the "broken notes" (as Mekurya termed non-scale tones). And despite West's circumscribed function within the group, there was the ever-present sense of collective discovery: how are we going to arrive together at somewhere nobody had really been before?
"West is very social, so that worked great in a big band like that," Hessels says. "He was very inspiring to the whole operation. Getatchew gave him many names—Burundi, but also 'Pappa Grappa,' because once West suddenly came up with glasses of grappa for everyone." West's openness and curiosity earned him a spot playing alongside the Ex's opening acts, including Mohammed "Jimmy" Mohammed, a vocalist who offered wonderfully raw, folksy, and distinctly Asmari takes on songs from the Ethiopian popular repertoire, mostly those of Tlahoun Gèssèssè. Jimmy's Hulgizey, released posthumously in 2007, documents some of their exchanges. As well, West, Hessels, and Bennink gave a number of concerts as a raucous improvising trio, and released an album in 2010.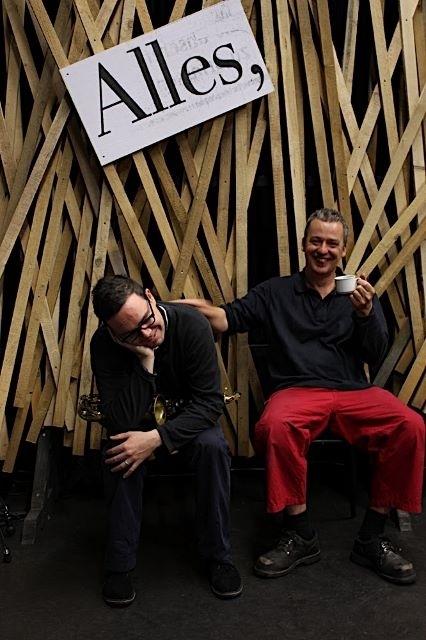 ABOVE: BRODIE WEST AND TERRIE HESSELS IN 2008.
In 2008, amidst one of many tours, West lost one of his most important mentors: Lorna. Her influence manifested in a wide-eyed uninhibitedness and a certain spiritual immersion—principles that West accords great importance. "Music was sort of like the answer for her," he says, adding that she lived alone most of her life and wasn't religious. "We never got a paying gig, but actually we performed together a lot. We would busk. The most memorable experience was playing on Cook Street in Victoria on the curb during the annual marathon: my grandma playing ukulele and me playing the saxophone. Playing for people as they ran by is just about the best and most hilarious experience ever. "My grandma was very supportive, equally so of my more out-there, adventurous music. She came and heard Han and I when we played in Victoria. We also did a workshop at Esquimalt High School and I can still see her sitting there watching and listening with her feet up on one of the chairs. She and Han got along really well." Her outgoing nature was matched by her boisterously colourful attire, harvested through incessant thrift shopping and adorned with her own custom hand-painted accents.
Lorna, West's own small record label, honours her spirit.
"It's a big deal to totally transplant yourself from one place to another," reflects West of his time in the Netherlands. "I couldn't describe to those guys what my experience was like in Toronto. I felt like there was this huge distance." This was just as much about geography as it was about discrete outlooks. The Ex and the proximate Dutch jazz scene each had their own clear, albeit flexible aesthetic systems, whereas the Toronto community, within which West remains ensconced, is more of a diffuse waft of sonic fragrances than something quantifiable.
Apart from the crunchy sophistication of Deep Dark United, other notable groups featuring West include his own combo, Legends of Jazz Piano, and Drumheller, a composer-driven quintet collective, inspired by but not beholden to jazz. He continues to work with concrète collagist Andrew Zukerman (whose stage name is Fleshtone Aura); to perform in Ryan Driver's Sextet, which addresses vocal ballads from a woozily intoxicating perspective; and to play in the angular Lina Allemano 4.
West's second solo album, Alexandra Park (Pleasence, 2016), is a strange, intimate document of his solitary excursions. Its dynamics and spatial sense convey fragility, but it's too downright preposterous to read as precious. The playing is focused yet free associative, impulsive but softly contemplative. It unfolds his enviable vocabulary on the instrument—all manner of dimly sustained multiphonics, casual microtonal banter, distant whinnies and faint crackles—yet its character is almost anti-virtuosic, consciously thwarting the triumphalist forward momentum of most horn heroes.
West's band Eucalyptus is at the other end of the spectrum in terms of style and scope. Anchored in West's jovial melodic signatures, it's decidedly lush ensemble features Ryan Driver on piano, Nicole Rampersaud on trumpet, Alex Lukashevsky on guitar, Mike Smith on bass, Nick Fraser on drum kit, and Blake Howard on assorted percussion—and, sometimes, additional guests. There's a clear preoccupation with syncopated groove—echoes of calypso, dancehall, and various other dance genres loiter on the periphery—but that's tempered by an easy, semi-reclined delivery. Their sunny tunefulness is honest and fully embodied, but it's actually the result of calculated contrarian mischief. When the band started, many other acts were, West says, "making an effort to be outside—dissonant, atonal, extended technique; not just laying into a groove or a rhythm." Desperate to steer the band away from that mode, as well as from prosaic jazz tropes, he attempted to level the playing field. The aforementioned genres provide a sort of provisional template, yet there's no pretending to be the least bit authentic. In fact, according to West, it's all about the instrumental mondegreens resulting from the band's unfamiliarity with the genre's canons. That's also what keeps the project from lapsing into appropriative cliché: the collective's assumptions pushed an ill-fated reggae-informed tune across that very line, prompting West to discard it altogether.
The band's two most recent releases reveal them at both their most rousing and their most mellow. The title track on Stop And Go, a tape for Hamilton venue-cum-label HAVN, offers a loping lattice of cowbells and chanted vocals, while West darts into the alto's uppermost registers for one of his all-time catchiest heads. The sweet composure of the recorded version contrasts with its live performance, where the tune's recapitulation is frequently the fierce climax of a set. The other recent release, the 10-inch EP Pink Flamingo Room, is a slower, dreamier affair, its balmy natural reverberation suggestive of ambient melancholia.
Ways, West's duo with drummer Evan Cartwright, is utterly distinctive. A Ways performance plunges listeners into temporal ambiguity on all levels. The rhythms hover, suggesting several tempi simultaneously, and this trait telescopes out to the formal level, where the ear is drawn equally to the moment and to the convoluted larger structures. Cartwright's soft and constant percolation provides an ambling and resolutely directionless momentum, and there's a tender volatility to West's contributions. One detects improvisation, yet it's all so tidily egalitarian and clearly delineated that it comes off like a loose chamber-music variant, rather than some mutant strain of jazz. A superficial glance at the duo's instrumentation suggests the fiery free-jazz touchstone Interstellar Space, John Coltrane's duet record with drummer Rashied Ali; but West's curt, iterative chromatic gestures and the music's introverted, clock-bending elusiveness are closer in spirit to the later Morton Feldman.
The Brodie West Quintet, West's newest ensemble, extracts several threads from each of the preceding ensembles. Combining Cartwright and Nick Fraser into a complex percussive matrix, West adds bassist Josh Cole and pianist Tania Gill. Like Ways' protracted excursions, the quintet compositions offer multiple rhythmic strata and fine gradations therein. For West, these are other devices for engendering humility in the ensemble. Like the stylistic blueprints employed in Eucalyptus, these rhythmic conundrums direct each member's impulses away from their comfort zones toward a common goal. The resultant sound is streamlined, and the harmonic language matches this transparency, variously evoking jazz and Ethiopian pentatonicism. Amidst this, we see West cautiously stepping into the soloist limelight with more frequency, showcasing his inimitable sweet-and-sour tone. "[He's] very open and lyrical," declares Hessels. "He doesn't push things, but finds ways to inspire and hook in with the other players. Special."
Brodie West's music pulls vulnerability out from unexpected corners, often by way of a jazz-adjacent language—an arena that frequently privileges facility and confidence above all. He cajoles it out of his collaborators, but listeners also empathize with the meek wonder that lurks in the backgrounds of his compositions. It's all so compelling because it's uttered in his own voice. "I hear him as playing as if he is speaking, with a lot of honest, playful eccentricity, emotion, and humour," states Gill.
West affirms her assertions: "Personality and character are more important to me than being able to achieve something with the music that you can trust others will be able to measure."
---
AUDIO: "Jammers" (2017) composed by Brodie West, performed by the Brodie West Quintet, from the album 17Ep (Lorna Records). PHOTOS by Chris Boni, except Brodie West and Terrie Hessels photo by  Malgorzata Haduch.