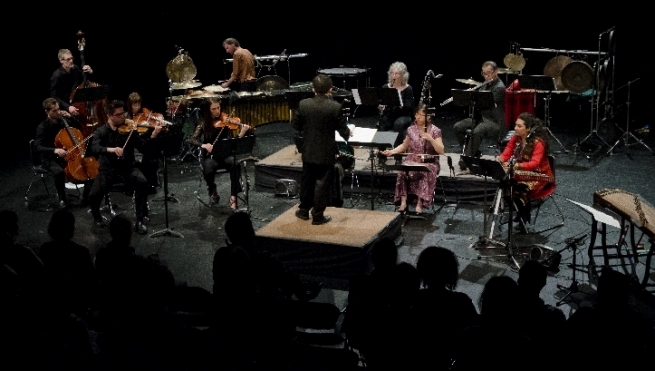 Intercultural music-making in British Columbia is nothing new. Gold seekers brought the violin to the province's north in the 1890s, and their jigs and reels were quickly adapted by the region's Tahltan musicians into a true hybrid form. In the mid-1960s, Vancouver performers from a variety of ethnic backgrounds found common cause in the R&B clubs—one of that scene's most prominent graduates being Jimi Hendrix (yes, the Seattle-born guitar innovator had some youthful Vancouver connections). A more overt form of cultural fusion came at the end of that decade, when Satwant Singh and Craig McCaw added tabla and sitar, respectively, to the sweet vocals of Terry and Susan Jacks on radio hits for the Poppy Family.
But what B.C.'s cultural capital has seen in the past twenty years has been unprecedented, and in many ways unique: successive waves of immigration enriching Vancouver with scores of highly skilled musicians, who are forming musical partnerships that would be hard to find anywhere else. Whether springing from necessity or desire, intercultural music has become a regional specialty, with new linkings emerging weekly. Even more intriguing, there is nothing exotic about an erhu virtuoso playing with a free-jazz saxophonist, or a conservatory-trained composer crafting scores for Iranian setar or Javanese gamelan.
"All I can say is that it's normal," says guitarist and composer John Oliver, who recently premiered his chamber piece Scenes from an Intercultural Marriage with Taipei's Little Giant Chinese Chamber Orchestra. "We're playing with our neighbours. We've got a lot of people living in Vancouver from all points, so we're just being local, in a sense. It's an odd thing to say, but that's the way I feel about it. Working with like-minded people who are interested in going beyond their own specific cultural background—and doing so in Vancouver—seems a logical thing to do."
THIS IS AN EXCERPT OF AN ARTICLE FIRST PUBLISHED IN THE SPRING 2015 ISSUE (#121) AS A COMPANION TO ALEXANDER VARTY'S FEATURE "THE MUSICAL LIBERATION OF LAN TUNG," ABOUT THE VANCOUVER EHRU VIRTUOSO AND FOUNDER OF SOUND OF DRAGON MUSIC FESTIVAL.  SUBSCRIBE NOW  AND ASK TO START WITH #121 OR ORDER A SINGLE COPY. 
---
Image: Vancouver Inter-Cultural Orchestra, with guest conductor Chih-Sheng Chen (Taiwan).