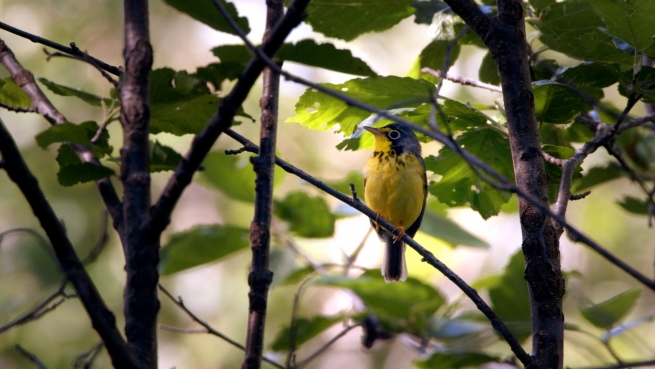 Songbirds have a secret language. This is something I did not fully appreciate until recently, when I became immersed in their world. What may be music to our ears is bird-speak—a mating call, an aural fence, or simple prattle to stay in touch. There are people who can understand bird speak, who can instantly discern the chirrup chant of a sparrow as discinct from the buzzy-zee-zee song of a warbler—or tell a warning call from an aria. I, however, am not one of these people. For me, being immersed in the sonic world of birds is like experiencing the Tower of Babel, except that birdsong is extraordinarily beautiful.
A walk in the park is much quieter today than it would have been fifty some years ago. So I write this not about birds per se, but rather about their absence, and their silence. We are losing our birds. In North America, we now have half the songbirds that we did in the 1960s.
Dusk. With civilization a distant glow behind us, I meet
Bill Evans, an avian migration researcher
with a DIY style, on an isolated hilltop outside Ithaca, New York. It is mid-September, near the end of migration season.  Accompanied by a soft wind, the thrum of insects, and the swish of our own movements, Bill unpacks his custom-built microphone, which consists of a hearing-aid element cradled in a plexi-pyramid with saran-wrap skin, fixed in a two-gallon, plastic paint bucket. He sets the bucket in the middle of the field, microphone pointed skyward. Then we wait.
A faint tseep or a tiny bssst trickles down from the sky. At first, these sounds are a few minutes apart, then only seconds. The night sky is alive with the movement of birds.
Most of us are familiar with the wa-wa crescendo of honking that signals the passage of a flock of geese, but I was unaware that most songbirds migrate under the cloak of darkness. High in the sky and out of sight, this biannual event can only be heard, never witnessed. These little calls are not songs but unique vocalizations that only occur during the nocturnal migration. Their purpose is likely "air traffic control." Bill can identify many of these calls—which are often only a fraction of a second long—by ear, but for verification he records them, then visualizes them in audio spectograms, an acoustic fingerprint that identifies the species.
Sunrise. Another part of the world. Leiden, The Netherlands. Behavioural ecologist Hans Slabbekoorn monitors the experiments of a young team of researchers. Working in a quiet park near a canal, one researcher hoists into the air a small microphone taped to a stick. He records birdsong. The other researcher cradles a speaker that plays back into the woods the prerecorded growl of highway traffic. This is an odd sight indeed.
In our increasingly noise-filled world, the hum of background noise tends to cluster within the low frequencies that many animals use to communicate. So what happens to this secret language of birds? Some males pitch up their tune to be heard above the constant moan of traffic. Singing in a higher register makes their song audible to females; but females tend to find lower frequencies "sexier," so the males who pitch up their song are less desirable. The result is like a bad date in a noisy bar—the birds are not hooking up. Without successful pairing, songbird populations dwindle. Which brings me back to the silence.
---
Image of Canada warbler: film still from The Messenger