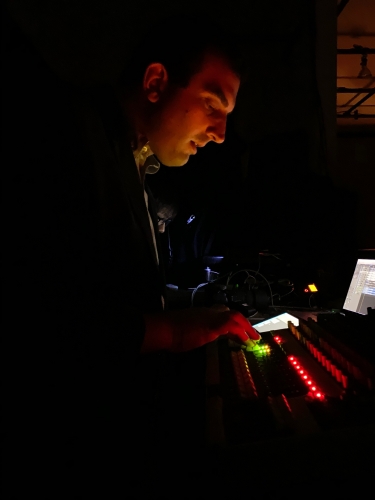 Epa Fassianos' Chromatocosmos won third place in Musicworks' 2018 Electronic Music Composition Contest, and also won first place in Category A of Musica Nova 2018 (the long-running international electroacoustic music composition competition presented by Society for Electroacoustic Music of Czech Republic).
Chromatocosmos is an electroacoustic piece which is based on original recordings of the baglamas, a traditional Greek plucked-string instrument with a long neck, which evolved from an Ancient Greek instrument called pandoura (earliest known examples depicted in artwork from third century B.C.)
"In my work I made an attempt to explore the characteristics of the instrument and its relation to history and Hellenic Culture via acousmatic music," Fassianos writes. "The work has references to melodic lines widely used by baglamas performers, but is mainly an attempt to recreate a new sonic world. I also aimed to use the instrument in innovative ways, from the recording process (use of sounds emerging from the chording of the instrument) to the development process (application of a wide range of transformations which would lead the sound in new boundaries).
"The addition of background cinematic-style sounds emerging from the baglamas through various transformations, creates a constant dialogue with the foreground sounds."
---
Dr. Epameinondas (Epa) P. Fassianos is a Greek composer of electroacoustic music. Born in Athens in 1982, Epa has master's degrees in Music Technology (University of York), in Composition for Media and Film (University of Sussex), and Musical Composition (University of Sussex).
Epa received a PhD degree in acousmatic music composition from the University of Manchester (NOVARS Research Centre), under the supervision of Professor David Berezan. His area of interest was creating works of acousmatic music based on aspects of Greek culture such as religion, traditional instruments, and mythology.
His works have been performed in eight MANTIS Festivals of Electroacoustic Music (Manchester), MA/IN Matera Intermedia Festival 2017 (Matera, Italy), MISE-EN_Place Electroacoustic Music Festival 2018 in Bushwick Studios (New York City), Ecos Urbanos Electroacoustic Music Festival 2018 (Mexico City), WOCMAT 2018 Conference: Electroacoustic Music Concert (Hsinchu City, Taiwan), Dialogues Festival 2019 (Edinburgh), Diffrazioni Firenze Multimedia Festival 2019 (Firenze, Italy) and EASTN-DC 2018: European Art-Science-Technology Network for Digital Creativity (Manchester).
---
GET IN THE MIX!
MUSICWORKS' NINTH ANNUAL ELECTRONIC MUSIC COMPOSITION CONTEST CLOSES OCTOBER 25, 2019.
VISIT OUR SHOP FOR FOR MORE INFORMATION AND ENTRY PORTAL .