Our annual guide to late Spring and Summer festivals and sonic events is a snapshot of musical adventures set to unfold in Canadian intersections, fields, and venues. Check out the 2023 Musicworks Festival Preview!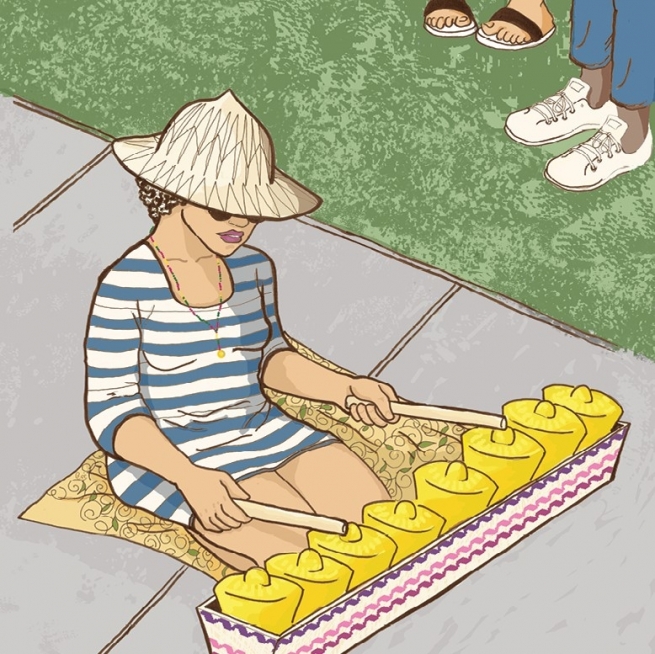 ---
PAID ADVERTISEMENTS
---
A music and arts celebration for the curious, the questioning, the defiant, and those still dreaming. Liberate your ears. Free your feet.
Join Suoni Per Il Popolo on its 23rd magical voyage around the sun, helmed by some of the most beautiful and remarkable creative forces. From the legendary Sun Ra Arkestra, true space wizards, to the tender sounds of original and elder Shanta Nurhalla; from the radical groove of LAL, Damon Locks, and Andy Moor to the deep sounds of Myriam Gendron and White People Killed Them; from the irresistible get up 'n' move beats of Homeboy Sandman and Funk Lion to the thought provoking innovations of Sarah Davachi and PPP . . . and a parade of nonstop, life changing events all June long.
Suoni Per Il Popolo is a grass-roots, community festival that believe music, arts, and creativity are a force for connection, liberation, community and action. They are focused on the healing power of arts and creative communication.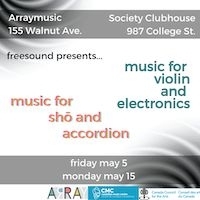 Freesound invites you to their May Mini-Festival, held over two nights.
Friday, May 5 at 7:30 p.m. at Society Clubhouse
Freesound violinist Aysel Taghi-Zada performs music by James O'Callaghan (Canada), Taylor Brook (Canada), Franghiz Ali-Zadeh (Azerbaijan), and a newly commissioned work by Christina Volpini (Canada) in an exciting concert of works for violin and live electronics. 
Monday, May 15 at 7:30 p.m at Arraymusic
Freesound members Wesley Shen, Michael Murphy, and Matti Pulkki perform music for two shō and accordion, written for them by Janet Sit (Canada) and Andrew Hulse (U.S./Canada), as well as new commissions by Haotian Yu (China/Canada), Michele Foresi (Italy), and Sarah Peebles (U.S./Canada).
Founded in 2019, Freesound supports new ideas in experimental and contemporary chamber music through innovative, daring, and compelling programming led by artistic director Paolo Griffin and including member-led concerts. Freesound is dedicated to the creation of new works by Canadian and international composers, and to non-traditional approaches to concert formats, all at the highest caliber of artistic expression.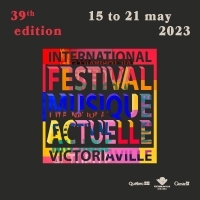 The 39th edition of the Festival International de Musique Actuelle de Victoriaville will take place May 15 to 21, 2023. The program will include world premieres, world-renowned musicians, visual arts, experimental films, and a circuit of sound art installations in public spaces. FIMAV is a true laboratory of all avant-garde art forms. Follow them into a world of audacity and avant-garde!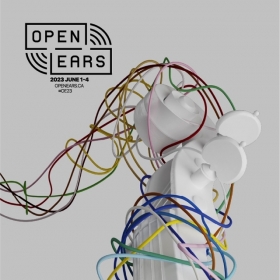 Open Ears is a pillar festival of a community that shares in the values of innovation and disruption. The festival captures new audiences with programming that speaks to the adventurous spirit of the area and the people who call Waterloo Region home.
Open Ears creates unique concert experiences that disrupt the conceptions of what music is or what it can be, presenting an eclectic range of events from indie classical music to electroacoustic to sound installations. The festival explores the theme of integrating community through the use of unexpected musical settings.
The focus of the events is the art of listening. Featuring a mix of local, national, and international artists, performances include string quartets, chamber orchestras, and choirs to turntable art, multimedia, performance art, and dance. Music is presented in traditional concert halls and churches, as well as alternative spaces such as abandoned buildings, coffee shops, and civic squares and parks.
Open Ears remains unique thanks to its mix of composed and improvised music, its collaborations with other organizations, and breadth of its programming. The festival has developed a national and international identity and continues to play a vital role in the life of contemporary art in Waterloo Region.
TONE Festival returns for its fifth edition promising an iconic convergence of generations and perspectives in musical experimentation. From June 2 to 28, curators Tad Michalak and Karen Ng demonstrate why Toronto continues to embody and embolden genre-defying creation and improvisation.
Featuring: RAWL (Jack Wright, Ben Bennett, Evan Lipson, Zach Darrup) // Naomi McCarroll-Butler // Ungent // Marc Ribot's Ceramic Dog (ft. Ches Smith & Shahzad Ismaily) // Andy Moor (of The Ex) // Adversarial Networks // Badge Époque Ensemble // Ben LaMar Gay's "Certain Reveries" // Masahiro Takahashi // New York Review of Cocksucking // Laura Swankey // Del Stephen // Jason Doell // New Hermitage // Zoh Amba & Chris Corsano // Farida Amadou // Ways (Brodie West & Evan Cartwright) // White People Killed Them (Raven Chacon / John Dieterich / Marshall Trammell) // Madeleine Ertel // Animatist // Not A Band // Caroline Davis' Alula // Tender Buttons // SUN RA ARKESTRA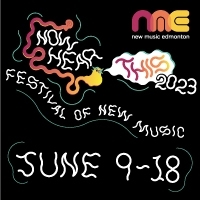 Check out New Music Edmonton's 12th annual festival in ᐊᒥᐢᑿᒌᐚᐢᑲᐦᐃᑲᐣ amiskwaciy-wâskahikan (Edmonton)!
Now Hear This 2023 includes new classical music, multimedia performance art, free improvisation, electronic music, and more! The NME team works with artists and the community to put together a unique portrait of new sonic art in Edmonton.
The festival opens June 9 with a captivating double bill: a recital by mezzo-soprano Michelle Lafferty and a program of new chamber music and songs by Karen Shepherd. The June 10 concert includes two multimedia performance pieces, featuring new work by Ashley Weckesser and the return to Edmonton of Stephanie Patsula.
The festival also includes outreach events, some new podcast episodes, a room-filling performance installation from immersive drone artist Ethan Bokma, and an enchanting performance by Courtney Brown using dinosaur skulls.
On Saturday, June 17, enjoy an evening of improv, noise, and more with the incredible Vertrek Trio, joined by renowned voice artist Cassondra Murray. The festival comes to a stunning close on Sunday, June 18, when one of Edmonton's most renowned artists, Shumaila Hemani, presents a live performance of her extraordinary work, Mannat.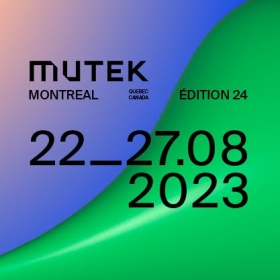 Founded in 2000 in Montreal, MUTEK is dedicated to electronic music and digital creativity. Focused on discovery and innovation, it presents an eclectic program of over 100 local and international artists, offering audiences unique immersive experiences and live audiovisual performances.
The 24th edition will unfold in various iconic Montreal venues and will feature a free outdoor stage on the Esplanade Tranquille, at the heart of the Quartier des Spectacles. For six days and six nights, Montreal's nightlife will be animated by numerous performances ranging from drone and industrial music to ambient, techno, and house.
The professional component—MUTEK Forum—brings together industry professionals to fuel conversations and meetings around current artistic practices and technological perspectives, such as extended reality or artificial intelligence.
Since its creation, MUTEK has expanded globally and now offers exceptional experiences elsewhere in the world, including Mexico, Barcelona, Tokyo, Buenos Aires, Dubai, and even online on the virtual.mutek.org platform. Recent notable innovations include the Immersive Collection and three extended-reality works inspired by past festival performances.