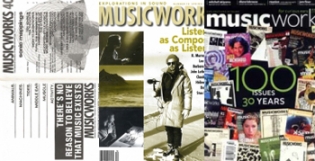 Featured Package - The Decades
Musicworks 40, Spring 1988:

sonic mappings
ten years in ten thoughts by Andrew Timar, helicopter-style music & music before civilization by Gordon Monahan, I was a Big Band Groupie by Leigh Crouch, Wende Bartley interviews Mike Dyer, John Oswald, Shelley Craig and Natalka Lubiw on creating audio landscapes.
On the CD:
Andrew Timar, Gordon Monahan, Bob Dubbs, CCMC with Casey Sokol, Michael Snow, Al Mattes, John Kamevaar, and Nobuo Kubota, Mystery Tape Laboratory, Guy Laramée.
Musicworks 70, Spring 1998 :

Listener as Composer as Listener
Confluence and Collaboration by Ellen Waterman, Still Listening: Pauline Oliveros reflects on the Life and Music of David Tudor, Searching for the Sharawadji Effect: Electroacoustics and Ecology by Claude Schryer.
John Luther Adams, Claude Schryer,
Lee Pui Ming, Barbara Pentland, H
élène Prévost, Pauline Oliveros.
Musicworks 100, Spring 2008:
duck and cover—copyright is coming to get you by David McCallum, the untold stories of so-called world music by Nick Storring, dynasty of dissonance: how Cage and Duchamp's Reunion set the stage for contemporary art by Donald Brackett.
Diane Labrosse, Jem Finer, Jordan Nobles, Mitchell Akiyama, Tasman Richardson.
$55.00 +shipping
Offer valid until February 06, 2018, while supplies last
MW Editions: R. Murray Schafer's "The Black Theatre of Hermes Trismegistos"
Detailed graphic score for one of Schafer's key series of Patria music theatre works, signed with the comment "to accomplish the same miracle." 88 pages, 11.5" x 17"
Musicworks Editions is a new fundraising project that supports our Musicworks in the Classroom outreach program. Funded exclusively by the generosity of sponsors and donors, three thousand copies of Musicworks magazine are distributed to music and media arts students at the university/college levels every year. We believe that this program is essential to build awareness and educate the next generation of listeners, composers, musicians, and sound artists.
We encourage you to support Musicworks in the Classroom through the purchase of a
Musicworks Edition
. Other Musicworks Editions include Gordon Monahan's
ABCDEFG,
John Oswald's
Four Editors Edited
, and Pauline Oliveros'
Important Notice.
Kindly direct any inquiries to Anastasia at
[email protected]
or by calling (416) 977-3546.
$300.00 +shipping
Offer valid until December 31, 2018, while supplies last