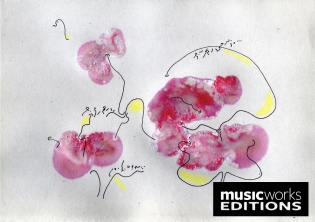 MW Editions: Jaap Blonk's "Secret Recipes"
Secret Recipes is a series of 11 original hand-drawn and hand-painted visual poems created exclusively for Musicworks Editions by internationally renowned sound poet Jaap Blonk.
The sale of Jaap Blonk's Secret Recipes ($250 per image*) directly supports Musicworks In The Classroom. This program, which is funded exclusively by donors, empowers us to distribute more than 3,000 copies of Musicworks to undergraduate music and media-arts students every year.
The Secret Recipes series started with some kitchen experiments: the combination of one liquid and one solid / powder ingredient, such as buttermilk and turmeric, beetroot juice and icing sugar or carrot juice and mustard seed. Due to the relative incompatibility of tastes the recipes weren't very successful, and I decided to keep them secret. Directions are written; however, they are in a script that has such a distant relation to phonetic notation that it has become indecipherable.
—Jaap Blonk
Sized
8.27 x 11.69 inches.
IMAGE PICTURED: Secret Recipes, #2
To view the full series, and for any inquiries, contact Anastasia at
[email protected]
or by calling
416-977-3546
.
$250.00 +shipping
Offer valid until August 30, 2016, while supplies last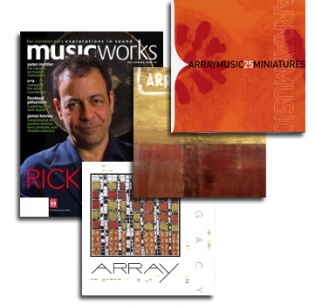 3 Arraymusic recordings + Musicworks 97
Arraymusic has fostered, presented and promoted newly created Canadian music for over 39 years. Its repertoire is eclectic, and includes pieces written by the world's most distinguished composers, including Ann Southam, John Cage, Steve Reich, Terry Riley, James Tenney, and Claude Vivier.
$30.00 +shipping
Offer valid until November 11, 2020, while supplies last