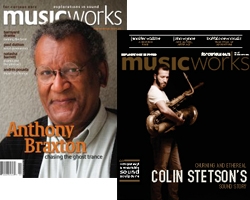 Featured Package: SAX PACK
Featured Package: SAX PACK
In Celebration of Festival International de Musique Actuelle de Victoriaville

Musicworks #99 (Spring 2007) + #116 (Summer 2013)
magazines and CDs only $22

The 33rd Annual FIMAV (May 18—21) is four days packed with sound art installations and performances by incredible artists such as Anthony Braxton and Colin Stetson. Dive into their stories in this back-issue special!
Musicworks #99 Issue and CD: "Anthony Braxton: chasing the ghost trance, connecting traditions" by Stuart Broomer; James Tenney and the theory of everything; Paul Dutton; Barnyard Drama; Andrés Posada; Natasha Barrett; and Ken Gregory.
Musicworks #116 Issue and CD: "Colin Stetson's Sound Story" by 2017 National Magazine Award nominee Nick Storring, John Wynne; Toronto turntablist SlowPitch (Cheldon Paterson); Irish composer Jennifer Walshe; and J.T. Rinker.
$22.00 +shipping
Offer valid until June 05, 2017, while supplies last
MW Editions: R. Murray Schafer's "The Black Theatre of Hermes Trismegistos"
Detailed graphic score for one of Schafer's key series of Patria music theatre works, signed with the comment "to accomplish the same miracle." 88 pages, 11.5" x 17"
Musicworks Editions is a new fundraising project that supports our Musicworks in the Classroom outreach program. Funded exclusively by the generosity of sponsors and donors, three thousand copies of Musicworks magazine are distributed to music and media arts students at the university/college levels every year. We believe that this program is essential to build awareness and educate the next generation of listeners, composers, musicians, and sound artists.
We encourage you to support Musicworks in the Classroom through the purchase of a
Musicworks Edition
. Other Musicworks Editions include Gordon Monahan's
ABCDEFG,
John Oswald's
Four Editors Edited
, and Pauline Oliveros'
Important Notice.
Kindly direct any inquiries to Anastasia at
[email protected]
or by calling (416) 977-3546.
$300.00 +shipping
Offer valid until December 31, 2018, while supplies last