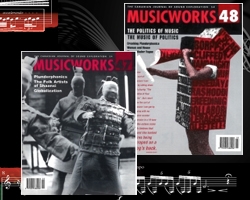 February Featured Package: Politics in Music
Explore the history of John Oswald's controversial Plunderphonics
2 Archival Issues + 2 Recordings* only $30
Musicworks
#

47

(Summer

1990

) examines John Oswald's
Plunderphonics CD in Part 1 of Norman Igma's exclusive interview with Oswald. Other articles in the issue discuss the role of world music in the conversation about globalization. You will be fascinated to read these ideas from the '90s in the context of today's political and cultural landscape.
#47 Recording* (CD or cassette format) includes Oswald's "Nine Examples of Plunderphonic Techniques," five songs by The Folk Artists of Shaanxi, and Jody Diamond's Pankur N.Z.

Musicworks #48 (Fall 1990) continues the exploration of the politics in music, and includes Part 2 of the Oswald interview, in which he explains why the CD was no longer available: "Perhaps I should have called this stuff FLATTERFONICS or QUOTE-A-MUSICS or something cute and unthreatening."
#48 Recording* (CD or cassette format) includes music by Warren Burt, Rhys Chatham, Susan Frykberg, and from the 1990 Newfoundland Sound Symposium.
* Package shipped with CDs; if cassette format preferred, please contact [email protected]
$30.00 +shipping
Offer valid until March 01, 2017, while supplies last
MW Editions: R. Murray Schafer's "The Black Theatre of Hermes Trismegistos"
Detailed graphic score for one of Schafer's key series of Patria music theatre works, signed with the comment "to accomplish the same miracle." 88 pages, 11.5" x 17"
Musicworks Editions is a new fundraising project that supports our Musicworks in the Classroom outreach program. Funded exclusively by the generosity of sponsors and donors, three thousand copies of Musicworks magazine are distributed to music and media arts students at the university/college levels every year. We believe that this program is essential to build awareness and educate the next generation of listeners, composers, musicians, and sound artists.
We encourage you to support Musicworks in the Classroom through the purchase of a
Musicworks Edition
. Other Musicworks Editions include Gordon Monahan's
ABCDEFG,
John Oswald's
Four Editors Edited
, and Pauline Oliveros'
Important Notice.
Kindly direct any inquiries to Anastasia at
[email protected]
or by calling (416) 977-3546.
$300.00 +shipping
Offer valid until December 31, 2018, while supplies last