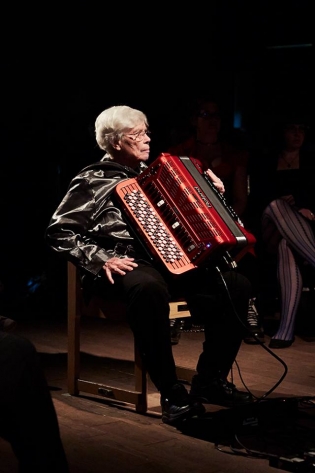 March Featured Package
TOGETHER AT LAST!
Musicworks issues #75 and #76 present companion feature essays by Pauline Oliveros: "Quantum Improvisation: The Cybernetic Presence" (Fall 1999) and "Quantum Listening: From Practice to Theory (to Practise Practice)" (Spring 2000).
Issue #75 also includes a discussion of the late Kenneth Gaburo (on the cover), composer Hope Lee, and a new millennium column by Udo Kasemets; Issue #76 includes features on Pamela Z, dance improvisation, and an essay by Tudor scholar John Holzaepfel.
CD #75 includes Pauline's Solo, composed and performed by Pauline Oliveros, and compositions Hope Lee, Kenneth Gaburo, and others. CD #76 includes Oliveros' Primordial Lift (excerpt), performed by Oliveros, Anne Bourne, Tony Conrad, Alexandria Gelencser, David Grubbs, and Scott Olson.
---
Photo of Pauline Oliveros performing at The Music Gallery in Toronto (October 2016) by: CLAIRE HARVIE
(Published in Musicworks #127, Spring 2017 issue, with the article "Eighty-fives scores celebrate Pauline Oliveros.")
$35.00 +shipping
Offer valid until March 31, 2017, while supplies last
MW Editions: R. Murray Schafer's "The Black Theatre of Hermes Trismegistos"
Detailed graphic score for one of Schafer's key series of Patria music theatre works, signed with the comment "to accomplish the same miracle." 88 pages, 11.5" x 17"
Musicworks Editions is a new fundraising project that supports our Musicworks in the Classroom outreach program. Funded exclusively by the generosity of sponsors and donors, three thousand copies of Musicworks magazine are distributed to music and media arts students at the university/college levels every year. We believe that this program is essential to build awareness and educate the next generation of listeners, composers, musicians, and sound artists.
We encourage you to support Musicworks in the Classroom through the purchase of a
Musicworks Edition
. Other Musicworks Editions include Gordon Monahan's
ABCDEFG,
John Oswald's
Four Editors Edited
, and Pauline Oliveros'
Important Notice.
Kindly direct any inquiries to Anastasia at
[email protected]
or by calling (416) 977-3546.
$300.00 +shipping
Offer valid until December 31, 2018, while supplies last