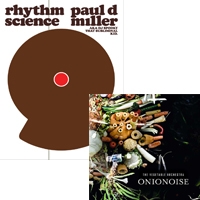 Featured Package: Rhythm and Beets only $24
Order DJ Spooky's influential Rhythm Science NOW and we'll add a BONUS CD by The Vegetable Orchestra!

Rhythm Science by Paul D. Miller (MIT Press, 2004)
The conceptual artist Paul D. Miller, also known as DJ Spooky, That Subliminal Kid, delivers a manifesto for rhythm science—the creation of art from the flow of patterns in sound and culture, "the changing same." Taking the Dj's mix as template, he describes how the artist, navigating the innumerable ways to arrange the mix of cultural ideas and objects that bombard us, uses technology and art to create something new and expressive and endlessly variable.
ONIONOISE by The Vegetable Orchestra
The 12-person Vienna ensemble has explored the sonic and musical potential of vegetables since 1998. All sounds on this CD are played on freshly made vegetable instruments. "The sounds produced by the vegetable instruments are amazingly multi-layered: transparent & crackling, shrill & massive, dark & hypnotic, funky & groovy—a heterogeneous multitude of acoustic gems and strange, unfamiliar sounds whose organic origin is not always immediately recognizable."
—The Vegetable Orchestra web site.
$24.00 +shipping
Offer valid until June 26, 2017, while supplies last
MW Editions: R. Murray Schafer's "The Black Theatre of Hermes Trismegistos"
Detailed graphic score for one of Schafer's key series of Patria music theatre works, signed with the comment "to accomplish the same miracle." 88 pages, 11.5" x 17"
Musicworks Editions is a new fundraising project that supports our Musicworks in the Classroom outreach program. Funded exclusively by the generosity of sponsors and donors, three thousand copies of Musicworks magazine are distributed to music and media arts students at the university/college levels every year. We believe that this program is essential to build awareness and educate the next generation of listeners, composers, musicians, and sound artists.
We encourage you to support Musicworks in the Classroom through the purchase of a
Musicworks Edition
. Other Musicworks Editions include Gordon Monahan's
ABCDEFG,
John Oswald's
Four Editors Edited
, and Pauline Oliveros'
Important Notice.
$300.00 +shipping
Offer valid until December 31, 2018, while supplies last