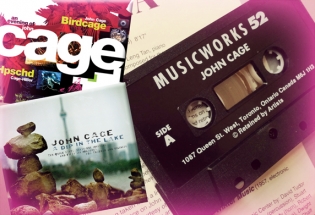 John Cage Cassette Set (2 CDs + 1 original cassette!)
This rare set of recordings contains the
Musicworks #52 original cassette
– which accompanied the Spring 1992 special all-Cage issue – featuring works by and for world-renowned composer John Cage. Its track-list includes
In a Landscape, One, Europera 5 (excerpt),
and
Atlas Eclipticalis
with
Winter Music
(excerpt)
,
as well as
Hexagram #14 for John Cage: A Yi Jing Jitterbug Vococtet
by Udo Kasemets, and
C(ag)elebration Messagemix
(1977)
organized by Udo Kasemets and Peter Anson and performed by callers from around the world.
You'll also receive 2 exclusive Musicworks CDs:
John Cage: A Dip in the Lake
(Ten Quick Steps, Sixty-One Waltzes and Fifty-Six Marches for Toronto and Vicinity), which invites you to be immersed in the dynamic soundscape that is Canada's most populous metropolitan area, Toronto: a collage of bird chatter, traffic, synthetic sounds, and the wonderful babble of different languages, dialects and music.
An Evening of John Cage: Birdcage / Hpschd
, the rare recording of a performance of one of Cage's most ambitious works, with harpsichords played by Eve Egoyan, Marc Couroux, Casey Sokol, Tania Gill, Gregory Oh, and George Boski, and electronics by Gayle Young, Robert Wheeler, Joel Chabade, William Blakeney, Donald Gillies, and Amy King.
(A $36 value for just $25!)
$25.00 +shipping
Offer valid until December 05, 2015, while supplies last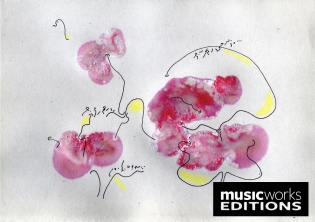 MW Editions: Jaap Blonk's "Secret Recipes"
Secret Recipes is a series of 11 original hand-drawn and hand-painted visual poems created exclusively for Musicworks Editions by internationally renowned sound poet Jaap Blonk.
The sale of Jaap Blonk's Secret Recipes ($250 per image*) directly supports Musicworks In The Classroom. This program, which is funded exclusively by donors, empowers us to distribute more than 3,000 copies of Musicworks to undergraduate music and media-arts students every year.
The Secret Recipes series started with some kitchen experiments: the combination of one liquid and one solid / powder ingredient, such as buttermilk and turmeric, beetroot juice and icing sugar or carrot juice and mustard seed. Due to the relative incompatibility of tastes the recipes weren't very successful, and I decided to keep them secret. Directions are written; however, they are in a script that has such a distant relation to phonetic notation that it has become indecipherable.
—Jaap Blonk
IMAGE PICTURED: Secret Recipes, #2
To view the full series, and for any inquiries, contact Anastasia at
[email protected]
or by calling
416-977-3546
.
$250.00 +shipping
Offer valid until August 30, 2016, while supplies last