FEBRUARY'S PREMIUM PACKAGE: 2 Back Issues + CD!
This month's premium package includes the timefields & maritides CD and TWO historic back issues, #24 (Summer 1983) and #29 (Fall 1984). timefields & maritides is an audio collage of material from the Musicworks archives. Edited by Musicworks founder, former editor, and pivotal composer John Oswald, the CD features aural and oral contributions from Emile Benoit, Udo Kasemets, Hildegard Westerkamp, Don Wherry and the Black Auks, Trichy Sankaran, Gordon Monahan, Lee Harvey Cremo, Robin MacKenzie, Mike Zagorski, David Barteaux, Paul Bendzsa, the first Newfoundland Sound Symposium, Albert Mayr, Evergreen Club Gamelan, Thaddeus Holownia, and other influential artists.
In the CD liner notes, Oswald exclaims, "Back in the very early '80s, Tina Pearson, my successor as editor and producer of Musicworks, decided that it would be ideal for this paper-and-ink publication to become 'a magazine with sound.' The idea was to include with each issue an audiocassette that would complement the printed contents. I was intrigued by the concept of what a magazine in sound might be: not just a compilation of discrete musical tracks, but something new…"
Musicworks pioneered the combination of sound and print, where the recording was integrated with the printed material, reconnecting the written and aural natures of music. timefields & maritides is a piece of music history.
$20.00 +shipping
Offer valid until April 29, 2015, while supplies last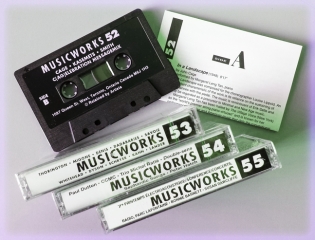 Musicworks Archives presents: The Vintage Cassette Collection
In 1983, Musicworks was the first publication worldwide to offer companion recordings for a magazine. Many tracks from notable artists were not available anywhere else. The first recording was released with Musicworks issue #23 on cassette form. The music format changed to CD in 1992.
JUST IN TIME FOR INTERNATIONAL CASSETTE STORE DAY (SEPT. 27, 2014)!
This exclusive vintage collection contains four of Musicworks' original cassette recordings: Musicworks #52, #53, #54 and #55. This collection is a limited-time offer and only available from Musicworks. Order now and for $20 (plus shipping) you will receive:
Musicworks #52 (1992, the original all-John Cage issue): Features Cage pieces In a Landscape, Atlas Eclipticalis with Winter Music (excerpt), Europera 5 (excerpt) and One. Also includes Hexagram #14 for John Cage: A Yi Jing Jitterbug Vococtet by Udo Kasemets, Music for John Cage by Linda C. Smith, and C(ag)elebration Messagemix (1977) organized by Udo Kasemets and Peter Anson and performed by callers from around the world.
Musicworks #53 (1992, "Radiophonics and other -phonies"): Includes Building a Universe: Rifts, Absences and Omissions by Helen Thorington; Voices Inside My Head, Rewind Memory and Mic Liberation by Christof Migone; 4 images by Jean-François Denis; dadababies by Julia Loktev; L'inconsolable by Monique Savoie; The William S. Burroughs Tape Worm Mutation by Gregory Whitehead; Voices Lost and Calling by Frances Dyson; Vagues d'excès by Claude Schryer; and The Trompebone of Chris Schiff by Douglas Kahn. Also includes 3 excerpts from Dan Lander's Ruminations of the Darkness: "Their Wings", "Ana Bing-ga", and "Closing Words".
Musicworks #54 (1992, Improvisation): Features Stereo Head and Beyond Doo-Wop or: How I came to Realize That Hank Williams Is Avant Garde by Paul Dutton; 2 excerpts from Double-sens performed by Joane Hétu, Kathy Kennedy, Claire Marchand, Zeena Parkins, and Danielle P. Roger; Somewhere Else performed by CCMC 3; Quatre by Michel Ratté; and When do they is not the same as why do they by Peter Hatch. Also features traditional Sephardic Judeo-Spanish Songs performed by Judith Cohen.
Musicworks #55 (1993, Sound Ecology): Contains numerous excerpts from performances, radio broadcasts and installation at the 7e Printemps électroacoustique in Montreal, including works by Ned Bouhalassa, Jean-Pierre Côté, Yves Daoust, Jacques Dudon, Susan Epps, Mario Gauthier, Gilles Gobeil and Lyette Limoges, Michel Smith and Paskal Dufaux, Knud Viktor, and Hildegard Westerkamp; Facets: Bonnie Barnett improvising with unprocessed voice; and Distant Relations, an improvisation with Susan Rawcliffe playing a Hooded Pipe with sub-harmonic tuning to base 18, accompanied by Paul Dutton, voice, and Gayle Young, Amaranth.
Looking for other
Musicworks
vintage cassettes? Want to order the original magazines that accompanied these recordings? Contact Anastasia at
manager@musicworks.ca
or by calling 416-977-3546.
$20.00 +shipping
Offer valid until August 30, 2015, while supplies last