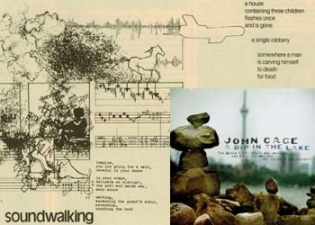 Limited 1984 Edition + John Cage Album
EDIT - JANUARY 18 2017
: The
Musicworks
Winter 1984 issue has just recently sold out. If you would like to purchase the package with an alternate limited-edition, Musicworks Spring 1984 or otherwise please contact [email protected]
Issue #26 (Winter 1984), a
limited-edition
treasure from the
Musicworks
archives, includes articles and poetry by R. Murrary Schafer, Hildegard Westerkamp, Michael Zagorski and more. This issue focuses on composing with environmental sound, acoustic design, and catalysts in conversations between scientists and musicians.
Paired with John Cage's album,
A Dip in the Lake: Ten Quick Steps, Sixty-One Waltzes and Fifty-Six marches for Toronto and Vicinity
. Immerse yourself in dynamic collages of bird chatter, traffic, synthetic sounds, babble of different languages, dialects, and music.
Listen to an excerpt
here
!
$16.99 +shipping
Offer valid until March 15, 2017, while supplies last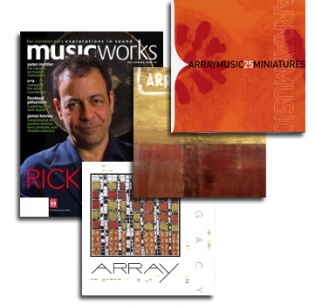 3 Arraymusic recordings + Musicworks 97
Arraymusic has fostered, presented and promoted newly created Canadian music for over 39 years. Its repertoire is eclectic, and includes pieces written by the world's most distinguished composers, including Ann Southam, John Cage, Steve Reich, Terry Riley, James Tenney, and Claude Vivier.
$30.00 +shipping
Offer valid until November 11, 2020, while supplies last