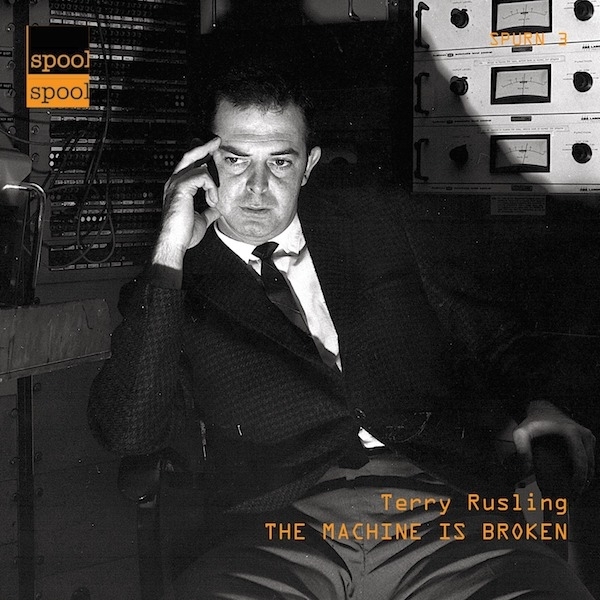 Despite his collaborations with notable poets (Gwendolyn MacEwan, Bob Cobbing), affiliations with pioneering studios at stalwart institutions (BBC Radiophonic Workshop, the University of Toronto's Faculty of Music, and others), and ties to that legendary beacon of Toronto subculture the Bohemian Embassy, composer Terry Rusling (1931–74) and his works remain on the periphery, even among curious listeners. The Machine is Broken, a cryptic compendium on the newly revived Spool imprint, shines some welcome—albeit dim—light on his eccentric and short-lived career.
The reissue realm is saturated with documents of unsung artists, rife with dates and technological ephemera. The fact that the packaging of The Machine Is Broken is devoid of the meticulous detail typically found on similar archival electronic-music projects is actually a breath of fresh air. The absence of context serves to compound the air of mystery surrounding these works. The music has plenty to say on its own.
Seventeen tracks—most bearing curt, utilitarian titles—are haunted by recurring fragments, making them flow together as one episodic mirage. Coarse textures with serrated edges cut through hazy-hued pools of sound. Caustic dub-like spirals of feedback magnify delicate trickles of notes that are reminiscent of Hugh Le Caine's Dripsody. Overdriven flotsam follows the warp of what feels like the sonic equivalent of undersea Mylar photography.
The recording is clearly of the day, cast in tape's unmistakable quasisepia tone, full of chirping pause-button edits, and subject to varispeed manipulation tactics. Yet Rusling's outlook remains gleefully out of step with the dominant sounds of the era. Instead, he shares the small eccentric cubby carved out by the likes of Tod Dockstader, Daphne Oram, and Ruth White—composers whose unflinching leaps into abstraction are supported by fleeting melodic shapes, proto-ambient washes, and gradient approach to legibility of sound source.
Judging by the online information and writing about Rusling, this compilation is a sliver of his sizable catalogue. One is left hoping that The Machine Is Broken will provide sufficient incentive for uncovering more of his work. Certainly to these ears, this disc offers a wondrously scenic detour from the well-worn path into early electronic music.