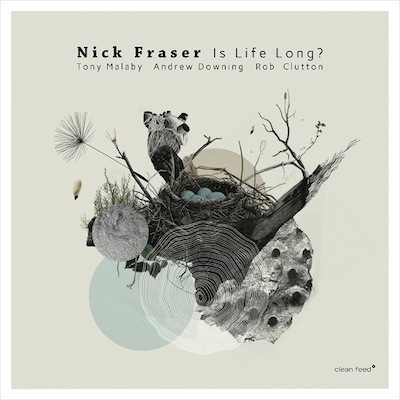 The opening four minutes of Toronto drummer and composer Nick Fraser's new disc consists almost entirely of long astringent tones that seem simultaneously on the brink of decay and of gathering momentum. This impression is compounded by Fraser's brittle, skittering accompaniment of his bandmates. When cellist Andrew Downing and saxophonist Tony Malaby eventually arrive at some semblance of a head—a languid and elusive melody—Rob Clutton's faltering bass drone ensures that the air of volatility remains.
This provocative opening statement speaks to the intrigue of Fraser's music. He's an in-demand jazz drummer, yet his distinctive compositional voice positions him as an outlier from these circles. His music draws from the jazz lexicon, but he cuts these familiar gestures into strange sharp-angled shapes. Often they jut out of a conspicuously straight (rather than swung) time-feel. Elsewhere, the textures stretch into unrecognizable masses of sound, and electronic treatments surreptitiously peek out from behind acoustic sonorities. The compositions tend to negotiate a dynamic moment-to-moment ensemble interaction rather than thrusting a given soloist into the foreground.
"Disclosure" begins with a deadpan walking figure from Clutton, its stiff, self-assured delivery suggesting an ostinato. But as soon as a sense of iteration seems to crystallize, Malaby and Downing enter the picture with a vigorous, knotted counterpoint. Fraser, meanwhile, neatly parcels the pulse into taut, asymmetrical chunks, and frames the ensemble within his characteristically dry precision behind the kit. Even when he blows across the beat altogether, in some gust of percussive sonority, he seems propelled by an underlying metronomic urgency.
While "Skeleton," with its vaguely more traditional demeanour, offers a pleasant shift at the disc's half-way point, the final track, "The Predictor," returns to the abstraction of the beginning, eventually culminating in a squelching Malaby solo over a fierce single-note cello-and-bass sparring.
Is Life Long?
sheds new light on all the peculiar contradictions of Fraser's music. It's one of his most accessible and most uncompromising recordings thus far.