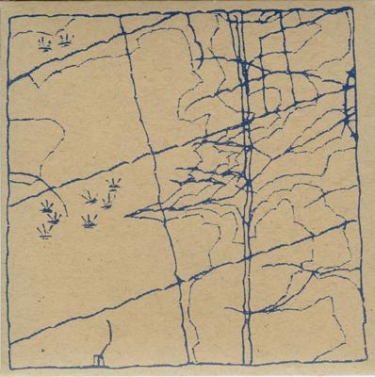 Slow but dense, with ripe, colourful gestures and murky tonality, the title composition of Martin Arnold's Tam Lin inspires a sense of bated-breath wonder, yet utter confusion. But what other results could one achieve by setting the improvisatory and vocal quirks of the Draperies—Ryan Driver, Eric Chenaux, and Doug Tielli—against Arraymusic's distinctive instrumentation, in an unravelling, double-vision reading of an old folk song?
With Arnold's singular brand of cloudy lushness, the piece careens along—the Draperies painting soggy-pretty tendrils of sound between the aquatic cushions of vibraphone and electric piano, and the deadpan half-questions from the violin and trumpet. Most notable, however is, the strange friction between the open, plangent quality of the singing, and the opacity of the weblike instrumental work.
Cameras is a markedly different piece, hovering for its duration within an itchy, fibrous texture. Marc Sabat bows electric violin with a pencil, which in turn modulates the volume of a pre-recorded tape. While this esoteric means might insinuate an outmoded process-over-product ethos, it appears that the priority is simply cultivating the beautifully rarefied aural terrain of the piece. The gestures feel as intangible and free-floating as on the opening cut, yet where Tam Lin feels saturated and full, Cameras is narrow and dry. Clipped melodies drift amidst truncated birdsong and the mysterious raspy col legno tratto of Sabat's pencil-bow.
Fergus employs a similar device—a melodica whose volume contour is linked to  edited and augmented field recordings of bagpipe-playing at the Highland games in Fergus, Ontario. The recorded and processed bagpipes spiral loosely around the melodica, suggesting a woozier and more fragmentary version of Terry Riley '60s loop-work. Yet, the persistence of distant muttering, chromatic kinks, measured pauses, and feeling of nonlinearity clutter the foreground, befuddling the listener with the same gentle aloofness as the other works. This unassuming elusiveness is perhaps the single most alluring and challenging aspect of Arnold's work.
Tam Lin is one of Arnold's few recorded documents. While quite demanding, it is engaging and beautiful in equal measure, offering a regrettably rare glimpse into his highly personal idiom.