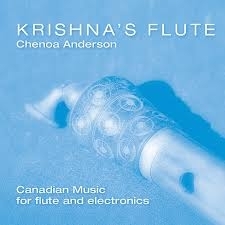 Chenoa Anderson's second collection of new Canadian music for solo flute is a fantastic—and often quite fantastical—survey of what's going on, coast to coast, in this admittedly specialized field. Focusing on works that incorporate an electronic element, either through prerecorded sounds or computer-based processing of the acoustic instrument, it's a subtle and heady affair and would be best appreciated in a quiet listening environment, or through headphones.
At the moment, though, I'm roosting just above a busy Vancouver corner and enjoying how Derek Charke's Disturbances of Circadian Rhythm is folding itself into the urban environment. Although it begins in a contemplative mood, with looping phrases made even dreamier by digital processing, the piece eventually becomes stranger and more complex, as Anderson's cascading phrases spill out over buzzing, sampled strings, accordion, and low, mysterious drones that seem to be coming from everywhere at once.
After that, producer John Oliver's Birds of Paradise Lost shows off the more conventional side of Anderson's virtuosity with its nuanced blend of ecstasy and mourning, while Ian Crutchley's White Dove closes the program with a meandering sequence of modular passages. Many of these are rather glacial in tone, but the piece switches direction often enough that it is more kaleidoscopically interesting than distressingly chilly.
The rest of the CD consists of Keith Hamel's appropriately meditative title track, Brent Lee's Turbulent Flow, and W. L. Altman's Aftertouch.
The one downside to Krishna's Flute is that Anderson is regularly asked to indulge in the kind of querulous twittering that's been flute music's default mode for most of the past century. Her instrument does lend itself to that approach, it's true, but perhaps that's a norm that needs to change.