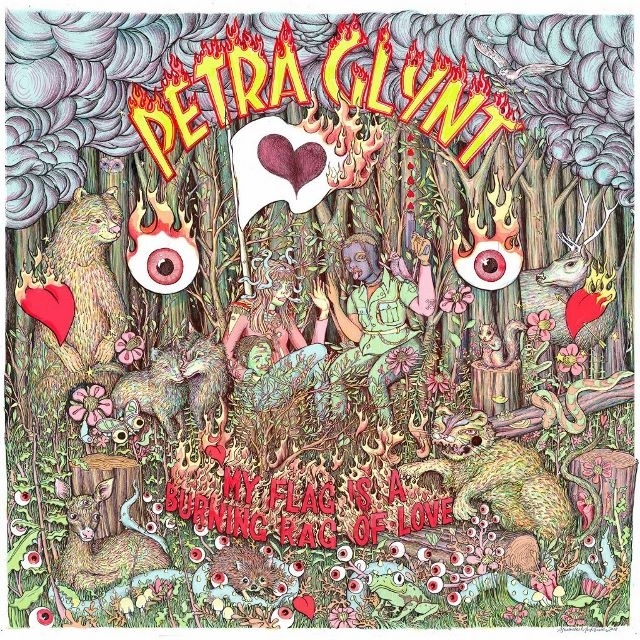 Petra Glynt is a sonic swashbuckler. Her electronic art-punk music reveals an unapologetic originator whose politics are integral to everything she produces (including her subversive. rainbow-coloured artwork). Her self-produced sophomore release, My Flag Is a Burning Rag of Love, which was mixed by engineer Alice Wilder, proves that Glynt's 2017 debut, This Trip, was not a fluke but a warning shot from an artist with a lot to say.
Being a voice for the voiceless has driven Glynt's music since she went solo in 2015—and thankfully this drive is marvellously supported by Glynt's opera-trained voice, which carries an innate sense of drama and emotional nuance perfect for songs that explore injustice and corruption, as well as the ability of people to come together and correct these transgressions.
Industrial beats, auxiliary percussion, electronic shrills, and disembodied voices morphing into militant, soulful vocals (think Moloko gone rogue) imbue protest tracks with menace and allure. From "Health" (inspired by the Flint, Michigan, water crisis) to the frenetic "New Growth," inspired by the #Metoo movement, Glynt's danceable music makes you want both to take to the streets and to dance until you drop, an odd but thrilling combination. Songs such as "Melt" are a reminder that even during a revolution one must restore oneself in order to fight on. With complete control and clarity in voice, lyrics, and message, hers is not only a big voice but a meaningful one as well.
Much of My Flag feels disquieting, capturing the sense that we all have cameras and guns turned on each other: will we choose continued warfare or peace? She doesn't answer that, but as the final psychedelic-tinged track reminds us, "It's Not Over."