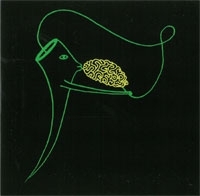 The Toronto-based trumpeter Lina Allemano has created a substantial body of work with the quartet she calls Four, releasing five CDs over the past decade. The last four (since 2006) have included the same musicians—alto saxophonist Brodie West, bassist Andrew Downing, and drummer Nick Fraser—and have codified a distinctive style, matching Allemano's sometimes playful themes with sustained dialogues in a manner that extends from the pianoless quartets of Ornette Coleman and John Zorn, as well as the Amsterdam school of free jazz.
While that band continues to develop (they play occasionally at Toronto's Tranzac, and tour regularly), Allemano has expanded her own musical horizons, studying with Axel Dörner, the German master of extended trumpet techniques, and travelling extensively in Europe playing in free-improvisation ensembles. Those interests drive her new Toronto group Titanium Riot, which stresses unstructured improvisation, a strong  electronic component in Ryan Driver's analogue synthesizer and the myriad new sounds that issue from Allemano's trumpet.
While bassist Rob Clutton and drummer Nick Fraser might look like a rhythm section, they rarely sound like one here. Instead the band appears to have passed through a mirror, in which the roles and sounds of the band have been exchanged and subtly fused. While Allemano's trumpet usually figures as a central voice, sounds here rarely possess roles or rote identities, all destabilized by Driver's electronic resource. A swirl of sound, a sudden sonic explosion, a creak or squeak or squeal might come from bowed bass, struck drum, or tweaked oscillator. It's a liberation of listening as well as playing. One gradually hears it rather than visualizing its making, hearing it more intensely in the process.
Throughout it all, Allemano emerges anew, a powerful minimalist improviser who builds complex moods with just a few blasts and flurries, then drives further into the expressive potential of her instrument with muffled bleats and fractured scales. The sound of her trumpet mutates freely through the multiphonics of "Kiss," the eerie burbling of "Fumes," and the new range of "Nose-Coloured Glasses," touching on fusion-era Miles Davis for declarative upper-register spears of sound and subvocal trills that disappear into the electronic soundscape. As the title implies, Kiss the Brain is a major event.