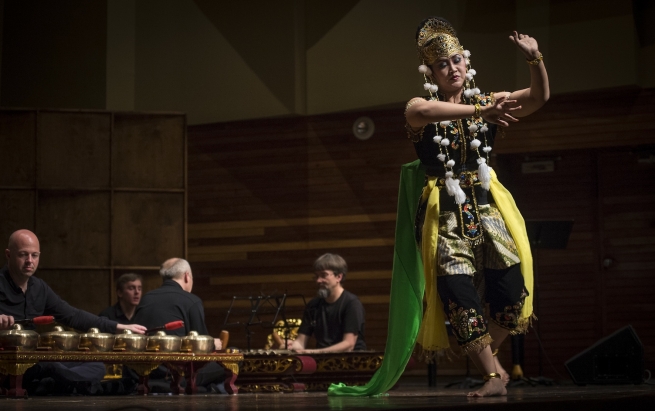 Audiences at Sound Symposium XVIII in St. John's, Newfoundland were treated to a full spectrum of improvisation, including free improvisation, graphic scores, and directed improvisation. We heard a vast range of music for electroacoustic soundscapes, Javanese gamelan, contemporary art music, Balkan folk music, and even music made by 3-D printers amplified by CCRMA's GRAIL (Stanford University's Center for Computer Research in Music and Acoustics' Giant Radial Array for Immersive Listening)—with CCRMA pronounced "korma."
Most nights brought two very different aesthetics and types of performance to audiences. Tuesday evening, in particular, exemplified the contrast in performances. It began with a standard new-music presentation: everyone wore black, approached their instruments and performed with a kind of pathos. All performers were male, although Joane Hétu was present in spirit through her composition. A theme of intellectual masculinity dominated the first half. The second began with solo vocalist Kay Etchegary, clad in flowing colours, singing music from her childhood written on little scraps of paper. This was personal and intimate. After Etchegary, Turkwaz (Maryem Tollar, Sophia Grigoriadis, Jayne Brown, and Ernie Tollar) sang for the audience in an equally intimate way, incorporating anecdotes and smiles as they explained to us what the songs were about and where they would commonly be heard.
Some performances were fairly divisive. Rufus Cappadocia, a virtuosic player and modal improviser, brought a style and a few different techniques to the stage. When he had finished his set, half the audience immediately stood up applauding, clearly enthralled and moved by his performance, while the other half stayed in their seats, clearly bored and ready to move on. When Cappadocia came back for an encore those who did not join the standing ovation were now not only seated, but trapped, and some audibly expressed that (not booing, but I heard a groan or two). The second half of the night featured new works for Sundanese Gamelan. The energy of the players on stage, their smiles, and their spirits washed over us and pulled us in. Composers—who were also players—spoke personally about the music and their friendships.
We had a taste of CCRMA's GRAIL every night, but its music really shone on Tuesday. Three Unlikely Corporate Sponsorships by Mark Applebaum stood out, due to its poignant balance of humour and politics through clever wordplay. Applebaum's piece was presented again on Thursday night (a treat to hear more of the nuances in its wordplay), and then on the final improv night the LSPU Hall's technical team did its own improvisation riffing humorously on pieces that had been shown throughout the week, delivering a coup de grace by throwing Kit Kat bars into the audience.
In addition to the political wordplay, the evening gave us a chance to hear a male choir sing a Prokeimenon in Hagia Sophia, a former cathedral and mosque in Istanbul, now a museum, that hasn't had singing in it for many years. This was realized through a stunning recreation of the historic building's acoustic space via auralization (rendering acoustic phenomena synthetically through computer-generated data." Another piece had the sounds of 3-D printers printing a literal sound object (a reed) being processed and layered in an intricate polyphony, ending with the finished reed playing the final notes.
There was the playful Black Auk's free improvisation kicking off the week (a toy shark the star this time) and the humorous and self-aware dance Zolla, both culturally aware and clown-like; there was the stirring poetry accompanying the music of Stockhausen, and the stunning virtuosity of violinist Parmela Attariwala and tabla player Shawn Mativetsky. The Symposium presented an eclectic mix of music in a highly amicable spirit, and it brought a group of people together in the love of sound.
---
Photo of Jeff Hennessy, Timothy Brennan, Bill Brennan, Ken Shorley (hidden), and Nurrika (traditional Indonesian dance) performing at Sound Symposium XVIII by: Greg Locke