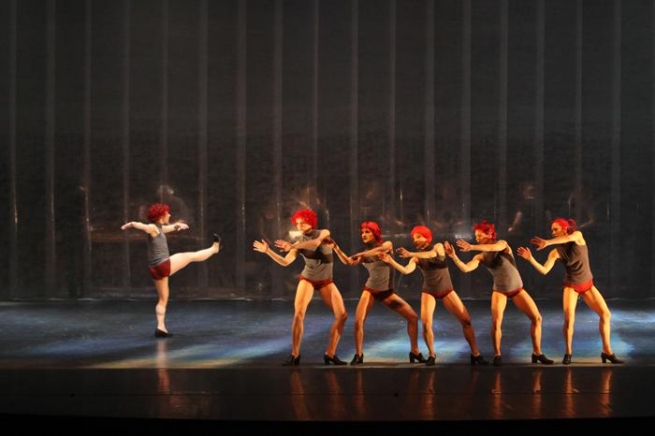 Being assigned to cover a new music festival such as Montréal/Nouvelles Musiques is somewhat like being thrown into a different space-time (and sound) continuum—one suddenly has the impression that new music is all there is to be heard all over the city, with ensembles, performances, and venues filled with enthusiastic audiences experiencing nothing but new works. In other words, a composer's living dream. And yet, for all that energy and talent, the media remained mostly deaf and blind to it—apart from a few concert reviews in daily papers—with nary a word about it on TV and hardly a mention in the free weeklies.
Now in its fifth edition, the festival is curated and brought to life by the Société de musique contemporaine du Québec, under its artistic director Walter Boudreau and general manager Aïda Aoun. Overall attendance was 20,000 this year, for a total of thirty-two concerts, free exhibits, and performances at Place des Arts' Grand foyer culturel, as well as conference and round-table discussion. The nine-day event was also designed to celebrate the fiftieth anniversary of the Montreal International New Music Week organized by Pierre Mercure in 1961 and undoubtedly the founding event for Quebec's contemporary music scene. In keeping with that legacy, John Cage's Atlas Eclipticalis—commissioned by Pierre Mercure for 1961's Festival and premiered then—was quite beautifully performed at Christ Church Cathedral, simultaneously with his Winter Music, by thirty Montreal musicians involved in the contemporary music scene.
This year, motion was the operative word, a theme to be heard but also to be visually experienced, with dance, video, and performances, in addition to concerts. All in all, it was a multidisciplinary festival that fittingly echoed the aspirations of the late composer Pierre Mercure, who in 1961—in tune with the decade that was to follow—championed that multimedia spirit in organizing the International Week of Today's Music.
The 2011 Montréal/Nouvelles Musiques was launched with a vibrant and deservedly lauded performance of La vie qui bat (first presented in 1999), which married Steve Reich's Drumming, performed by thirteen musicians—including the magnificent virtuosos from the Sixtrum percussion ensemble—conducted by Walter Boudreau, to the choreography of Ginette Laurin, interprested by the ten superb dancers of O Vertigo.
André Hamel's sixty-minute work Urnos was one of my festival favourites. A musical drama of sorts, it fuses music, angular melodies, dance, and video. Hamel composed the work to "recreate a ritual from the mysterious Urnossian civilization" with piercingly beautiful music sung and played—on instruments reconstituted by Guy Laramée—by musicians from La Nef, and with a memorable last scene evoking a funeral rite.
At the Chapelle historique du Bon-Pasteur, the happy few who attended were in for an evening of great vocal refinement under the auspices of Toronto's Queen of Puddings Music Theatre. Composers Pierre Kresimir Klanac, Fuhong Shi, and John Rea were commissioned for the occasion and singers Krisztina Szabô and Xin Wang, along with accordionist John Lettieri, subtly conducted by Dairine Ni Mheadhra, gave precise and heartfelt renditions of their works, respectively evoking Medieval France, Tang-Dynasty China, and Renaissance Italy in a surprisingly radiant consonant register.
Salle Pierre-Mercure resonated with a new addition to the already plentiful roster of Montreal ensembles dedicated to modern and new music. Orchestre 21, conducted by Paolo Bellomia, performed a program that comprised Serge Garant's intensely lyrical Plages and Philippe Leroux's wild L'unique trait de pinceau.
With resounding technological verve, the duo White_Box (Alain Thibault and Yan Breuleux) immersed the audience in a video–music intermix displayed on three HD screens, and featuring images and sounds generated in real time.
Apportez votre cellulaire ("bring your cellphone") was a Sunday afternoon programming hit that featured the première of Le telephone bien tempere for harpsichord, organ, wind quintet, tape, and cell-phone ringtones. Several hundred people, most of them cell-clad, were asked to ring their individual tones at precise moments during the unfolding of Walter Boudreau's score, while a series of translucent variations on Bach's First Prelude in C Major for small ensemble, organ (Jean-Willy Kunz), harpsichord (Geneviève Soly), and electroacoustic component (Yves Daoust) played.
One festival feature deserving mention is the clever initiative of MNM's After Hours events, which took place at ten every evening at the cozy and fun Casa del Popolo venue. The three programs of experimental, improvised, and avant-garde music, performed by musicians from Montreal, Norway, and Vancouver, was a great way to introduce new music to the young listeners who might not go to traditional halls.
Last but not least, four days of lectures and conferences were held on various themes. One of these, on Pierre Mercure's artistic legacy, included a formidable rendition of H20 Per Severino for two flutes, brilliantly performed and presented by Jean Derome and Guy Pelletier. Others programmed were a panel discussion on the theme of composition and cultural identity; extensive lectures on the evolution and future perspectives of new music in Quebec through the last fifty years; the relationship of music and dance; and prospective views on the creation of a new public space dedicated to new music in the former Montreal Bibliothèque Nationale, fittingly renamed Le Vivier—a French figurative term for breeding ground, thus implying a place where talent can grow and evolve, while at the same time alluding to the revered late Québécois composer Claude Vivier. (Note: A fuller version of this review can be found at <marchyland.com>). 
---
Image by: Jacques Cabana