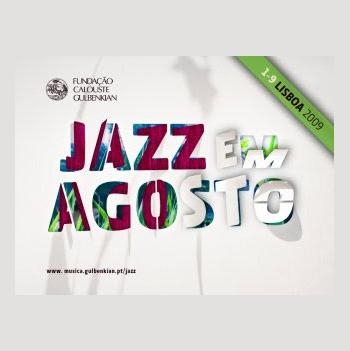 There are plenty of festivals designed to exploit beautiful physical settings, but they tend to present the most accessible (and festive) musical genres. At the opposite end of the spectrum there are festivals that emphasize challenging music in ad hoc environments. Somehow, Jazz em Agosto manages to have it both ways. Set in Lisbon each August, it benefits from consistently warm, sunny weather and the splendour of the Gulbenkian Foundation's jewel-like outdoor amphitheatre, set in a park that blurs the line between forest and garden. Dave Douglas ended his performance this year by thanking the audience "for having me play in this beautiful place again." It's a beauty that incorporates the sounds of an adjacent duck pond, an Atlantic breeze that can blow music scores off stands, and Lisbon flight patterns that ensure the regular presence of low-flying aircraft. The last is so much a part of the festival that this year George Lewis included samples of a fly-over in the opening concert.
Complementing that setting is the programming of artistic director Rui Neves, who each year manages to intertwine challenging music and a variety of themes with rare clarity, supporting talks and film presentations providing rare context and connections. The twenty-sixth edition had several themes, touching on the early roots of free jazz and improvised music and the significance of musicians' cooperatives, shifting approaches to brass instruments, and contrasting methodologies for composition and improvisation. There was also a clear interest in the generations of free jazz, reflected in performers' ages, which stretched from Peter Evans' twenty-seven years to Bill Dixon's eighty-three. More than just a concert series, Jazz em Agosto is a tapestry-like essay on sources and influences.
Themes were apparent in the talks and films. George Lewis gave a talk with slides and musical examples based on his recent book about Chicago's Association for the Advancement of Creative Music, A Power Stronger Than Itself: The AACM and American Experimental Music. Lewis emphasized the AACM's importance in promoting collective interests, and he noted the relative exclusion of Black musicians from the histories of contemporary experimental music, including his own work at IRCAM. The trumpeter Bill Dixon was the architect of the Jazz Composers Guild in New York in 1964, a fact developed in Dixon's interview in one of the film's screened, Imagine the Sound, made by Ron Mann and Bill Smith in Toronto in 1981. There was also a rare screening of Steve Gebhardt's eponymous documentary on the making of Carla Bley and Paul Haines' Escalator over the Hill by the Jazz Composers Orchestra, an off-shoot of the original Guild.
The fruits and extensions of those original impulses were implicit in the opening and closing performances. True to George Lewis's talk, his ensemble Sequel went far beyond free jazz in both its instrumental voices and methodologies, combining a host of idioms with extended electronic development and exploration, including both the traditional Japanese sonorities of Miya Masaoka`s koto and the current idioms embodied in DJ Mutamassik`s turntables and the popping, slap-funk bass of Siegfried Rössert. In the dense electronic elaborations, it was the persistence of detail and the structuring contrasts that gave form to the evolving music.
There was also a focus on a variety of methodologies: a relatively traditional jazz approach (Dave Douglas' Brass Ecstasy), conducted improvisation (Butch Morris and the Nublu Orchestra), pure acoustic improvisation (the saxophone quartet Propagations), and electroacoustic improvisation (the Swiss duo of Franziska Baumann and Matthias Ziegler combined her voice and his flutes with her electronic Sensorlab glove and his loops).
While Douglas is a substantial presence, there's no question that Peter Evans is a major figure in the making, providing some of the freshest music of the festival. While saxophones have undoubtedly formed the new vocabularies of jazz since the 1940s, Evans has already achieved a control of extended techniques that few trumpeters have touched on. He appeared in two concerts, one a solo performance and one with his quartet. For the former he made extensive use of circular breathing for continuous play, a technique rarely applied to brass instruments. Evans, however, can do it almost seamlessly, employing it with fluttering, repeated arpeggios and sometimes voice to develop simultaneous sounds that could suggest Bach keyboard music (as filtered by Evans through his mentor, saxophonist Evan Parker). At times he also employed two trumpets, using one with microphone feedback and the other (a piccolo trumpet) for brilliant runs that sputtered at high speed through the instrument's range.
It was European free improvisation that provided the festival's most luminously transcendent moment. The French saxophone quartet Propagations consists of Stéphane Rives, often emphasizing whistling highs on his soprano, Bertrand Denzler who frequently uses his tenor for percussive punctuations, and Marc Baron and Jean-Luc Guionnet whose oscillator-like drones on alto saxophones give the music much of its continuous character. Each is a master of circular breathing and they use it to almost eliminate the characteristic attack of the saxophone's sonic envelope, instead creating waves of sound that evolve gradually in pitch, sometimes suggesting organ chords and at other times creating beat-patterns between very close frequencies. It was the kind of performance that's rare anywhere, but it's made possible here by Jazz em Agosto's enlightened embrace of fresh possibilities.