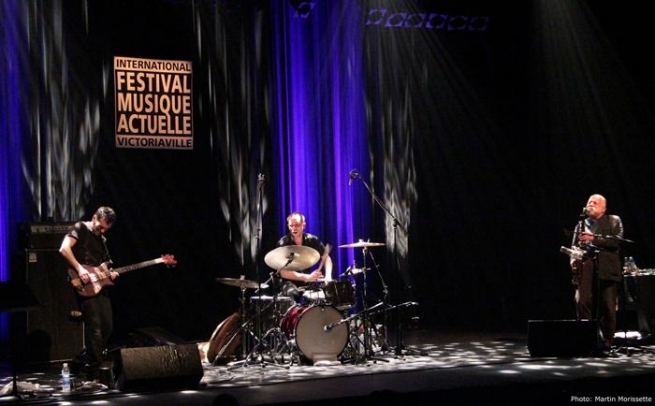 FIMAV has a distinctive character, from its unlikely location in rustic Victoriaville, an hour's drive from Quebec City, to its insistence on celebrating so many musical frontiers: free jazz, rock, electroacoustic improvisation, DJs, and sound-art installations. Despite its rich history, "Victo" isn't resting on its laurels. Following its twenty-fifth anniversary in 2008, there have been some significant changes. In 2009 the festival went into hiatus. In 2010 it returned in slightly revised form, scaling back its longstanding five-day format to four, adding sound-art installations, and (in a bow to economic conditions) placing more emphasis on Quebec performers. For 2011, FIMAV retained the four-day format but a global perspective was evident in the programming.
Artistic Director Michel Levasseur has demonstrated an ability to cut across musical boundaries, something evident on opening night. Japanese vocalist Koichi Makigami presented his Tokyo Taiga project with percussionist Sato Masaharu and throat-singer Bolot Bayryshev from the Siberian Republic of Altai. An island of tranquility in turbulent seas, the trio wove together experimental and traditional techniques, fusing ancient vocal techniques with instruments that ranged through hand-drums, flutes, an Altai lute, cornet, jaw harp, and theremin, to explore cultural and tonal frictions with a sense of unhindered conversation and the possibility of accord.
That opening night also featured the festival's liveliest act: Dutch rock band The Ex combined with Brass Unbound, a quartet of free-jazz horn-players (trumpeter Roy Paci and saxophonist Mats Gustafsson were best able to cut through the din). While some delicate folk songs eventually appeared, the Ex's frenetic lock-step energy and abbreviated post-punk anthems dominated, with R&B riffs and full-scale blowouts from the horns. Loud and manic, it was also witty and ecstatic.
German free-jazz titan Peter Brötzmann was a central presence, FIMAV marking the saxophonist's seventieth year with two concerts, one an industrial-strength trio with electric bassist Massimo Pupillo producing walls of sound and drummer Paal Nilssen-Love demonstrating extraordinary rhythmic articulation at high volume. Brötzmann also gave a solo concert that touched emotional intensities rarely broached in any music.
At the opposite pole were the brief and highly melodic pieces of harpist Zeena Parkins' Adorables, with percussionist Shayna Dunkelman and Preshish Moments on electronics. The trio combines electroacoustic improvisation with elements of lounge exotica in ways that merit comparison with John Zorn's The Dreamers. There were plenty of reflective moments as well in the solo improvisations of Vancouver pianist Paul Plimley and in the chamber-music delicacies of Dutch violinist Ig Henneman's Sextet.
Saxophonist/composer Anthony Braxton led his septet in a new direction with Echo, Echo, Mirror House, a piece in which a cohesive group of Braxton regulars individually access previous performances of Braxton's music stored on iPods. In the hour-long performance (marked by Braxton's signature hour-glass), live and recorded music, past and present methodologies and voices merged, parts commingling to create a continuous temporal enfolding. In a very odd way, the recorded material sounded like it was playing backwards, Braxton's unusual combinations of metres feeding a fresh exploration of the experience and meaning of his music.
What may be most remarkable about Victo is the matching of stylistic diversity with common quality. French guitarist Richard Pinhas, Japanese electronics specialist Merzbow and the American trio Wolf Eyes combined in a triumph of noise, a work of mass and grandeur that could suggest a Bruckner symphony at the other end of the industrial revolution. In the project called Stained Radiance, guitarist Nels Cline developed layers of guitar loops while painter Norton Wisdom rapidly painted an ever-changing narrative on an illuminated screen.
There were also enough vocal performances to make this a festival of voice, from the brilliant sonic gymnastics of Jaap Blonk to the nostalgia-fuelled art rock of Comicoperando, a program of Robert Wyatt songs sung by Dagmar Krause and Karen Mantler with stellar instrumental accompaniment.
A festival that features such known quantities as Merzbow, Brötzmann and Braxton might seem deficient in surprises, but for non-Montrealers the Ratchet Orchestra came as a revelation. Conceived, led, and orchestrated by bassist Nicolas Caloia, the twenty-eight-member band began in homage to the late Sun Ra, whose influence is evident in almost-processional themes, both weighty and witty (there's sousaphone and bass saxophone) with a suggestion of polyrhythms for pachyderms. Repeated chants, too, are appropriately Ra-like: "Don't you know yet. It's after the end of the world," opened the concert, marking an American evangelist's insistence that the Rapture would occur on May 21, 2011. Vigorous orchestral playing was further animated by intense improvisations from some superior soloists, including saxophonist Christopher Cauley and the brilliant trombonists Scott Thomson and Tom Walsh.
FIMAV is a festival that can still surprise, and it seems likely to do so in years to come.
---
Image: Manon Laliberté. Image by: Martin Morrissette.