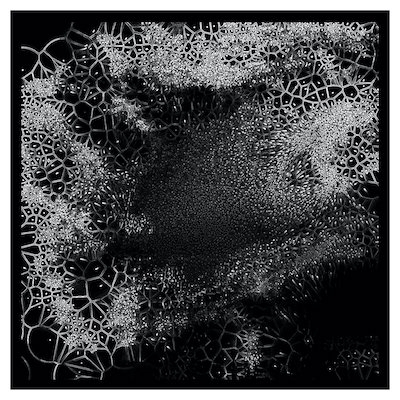 On Ghost Songs, Toronto-based composer Bekah Simms has written music made of flying sparks and haunted echoes. The JUNO- and Gaudeamus Award-nominated composer often explores all-consuming atmospheres through visceral textures and nervous energy. Ghost Songs follows this trajectory, creating a constant push and pull from dissonance to consonance while making use of dark, engrossing textures.
The album is centred around three of Simms's Skinscape pieces, each featuring a solo instrument paired with electronics. The instrument plays a melody, often using unique crunchy techniques, over a bed of churning electronics that occasionally shoot transformed versions of the solo back into the atmosphere. All of the pieces follow this structure, but each takes on a different character. Skinscape II, which is written for oboe, opens the album with a loud, shuttering buzz and a low pulse, while Skinscape I follows with a fluttery, breathy flute. Time seems to stand still in these pieces, which jump from section to section at their own pace. The music feels amorphous, moving like a large, undulating mass of sound.
At its heart, Ghost Songs showcases Simms's ability to create transfixing atmospheres. On the album's final track, "Jubilant Phantoms," Simms pares the music down to a series of increasingly anxious drones. With every strike of a new chord, the tension rises. It's the essence of her music distilled into eight minutes—a feeling that becomes more and more real with every chord.