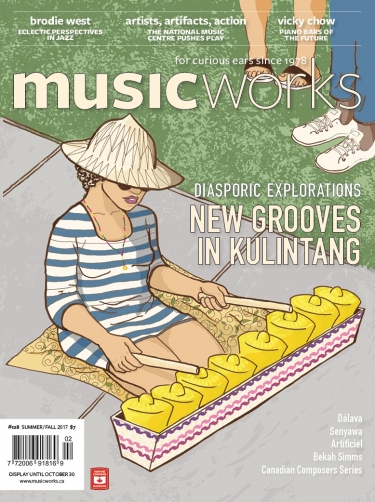 My childhood memories of gongs in action are mostly associated with entertainment spectacles: snooze-interrupting crashes at symphony matinees, the bare-chested Gongman swinging a mallet in the Rank Organisation's film logo, a minor celebrity banishing a contestant on The Gong Show. But during those years—thanks to my globetrotting grandparents, and the photos they took and LPs they collected during their travels—I also started to understand that gongs are more than just sonic punctuation marks in popular culture.
Alone or in sets, gongs reverberate in the daily, creative, and spiritual lives of people all over the world. In Toronto's vibrant Filipino-Canadian arts community, performers like HanHan, Luyos MC, and the ensemble Pantayo have been learning gong-based kulintang music, combining it with modern sounds and instruments, and expressing ideas about the world they live in. You will meet these artists in Mary Dickie's lovely and lively cover story, and you can hear them on the companion CD to this issue.
"The music that we play," Christine Balmes said during Pantayo's set at the Music Gallery a couple of years ago, "is largely inspired by the indigenous people of Southern Philippines, mainly the Maguidanaoan and Tboli tribes of Mindanao, the second largest island . . . The questions that we ask ourselves here in Pantayo are: How is what's happening with the Indigenous communities in the Philippines similar to what's happening to Indigenous people here in Canada and around the world? And how are we complicit as settlers and diasporic people? These are questions that we ask ourselves as we play these instruments, and these are questions that we want to ask of you."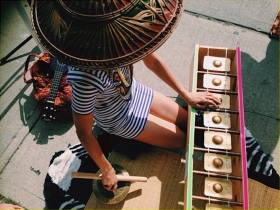 Other artists in this issue are also connecting their cultural or personal roots to fresh ideas in intriguing musical ways. Vancouver-based vocalist Julia Ulehla tells Alexander Varty that her great-grandfather's extensive treatise on Moravian song (published in 1949) has become both the sourcebook and spirit guide for her duo Dálava: "It brings so much meaning to the work. And it's relevant to modern life."
In Halifax, Musicworks' assistant editor Daniel Glassman got a close-up look and listen to the bambuwukir, a dynamic, multifaceted instrument invented and built by Senyawa's Wukir Suryadi, who took his inspiration for it from the history of Indonesia, and who considers the instrument to be an extension of himself.  
In Nick Storring's eloquent feature-length profile of Brodie West, the Toronto alto saxophonist and composer talks about playing alongside Ethio-jazz saxophone legend Gétatchèw Mèkurya while touring with the Dutch band The Ex, and about the musical influence of his grandmother Lorna, with whom he used to busk.
For his second Musicworks feature, Jesse Locke returned to his hometown, Calgary, to visit the National Music Centre (which reopened to the public in its new home, Studio Bell, just over a year ago) and The Original New Timbral Orchestra (TONTO), one of the wildest treasures in the NMC's incredible collection. I was thrilled when Jesse proposed the TONTO angle. The first LP I bought with my own money was Stevie Wonder's Talking Book, and I listened to it over and over and fell in love with its weird keyboard sounds, many of which were made using TONTO.
There is always more to learn about the music and sounds you think you know so well. 
CORRECTION: The quotation attributed to Christine Balmes in the above article was incorrectly attributed to Kat Estacio in the print edition (#129). Musicworks regrets the error. 
---
#128 cover and photo: The photo of the woman was taken in Toronto's Kensington Market in Summer 2014 by Joanna Delos Reyes; it inspired the illustration by Althea Balmes on the cover of Musicworks #128 (Summer / Fall 2017). In the print issue, Joanna Delos Reyes' photo is incorrectly credited to a different photographer. Musicworks regrets the error.