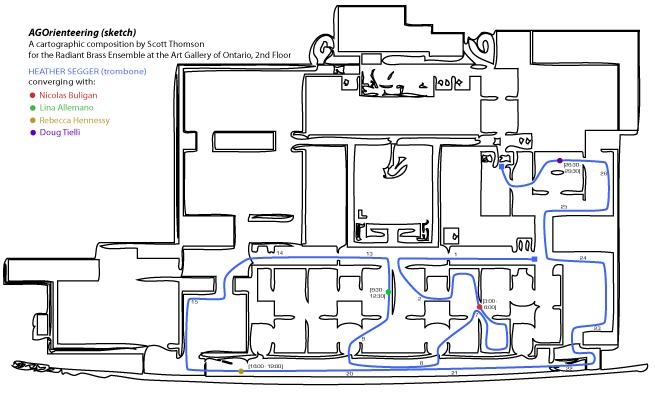 Among bike bells, olives, and music maps, Scott Thomson lounges in his Montreal apartment, seeming to enjoy a relaxed summer evening. Later, the sight of his trombone—on a stand nearby—will remind him he has a lot of work to do.
Scott is working on new piece to take place at the Art Gallery of Ontario in Toronto, a city where he has a lot of musical roots. AGOrienteering is the latest work in his Acoustic Orienteering series—site-specific, "cartographic" compositions for creative musicians, which employ maps as a principal component of the scores. At the AGO performance, the players will start at different locations in the gallery and, following a map and time index, will move at a slow pace through the gallery's spaces, playing all the while. The audience will be invited to exercise their own mobility as well, choosing from multiple, concurrent, mapped performances.
GLORIA LIPSKI: Can you give me a brief introduction to your series, Acoustic Orienteering?
SCOTT THOMSON: It's a series of pieces that activate a lot of interests that I have: working in specific acoustic spaces—outdoor or architectural—and musicians playing as they move, together and separately, and also inviting the audience to move through these various spaces to experience the composition according to their own choices.
GL: How did the series get its start?
ST: The first piece that I did in the series was MUSIC(in)GALLERIES. The idea came when I was walking along Queen Street West in Toronto and noticed all these quiet art galleries There are very few public commercial spaces that are quiet. I thought, wouldn't it be great to have music in one of these spaces? And then, why not have music in all of them? Then the wheels started turning and I thought it would be great to have music presented in a way where there's always music happening in different places and people have to choose where to go.
GL: This latest piece AGOrienteering is written for the Art Gallery of Ontario. What is it about that space that inspired this latest work?
ST: The piece is about the spaces themselves in the AGO—specifically the second floor. I've wanted to do a piece like this in those spaces since I saw the Frank Gehry renovation. The AGO has some beautiful acoustic spaces—particularly the Galleria Italia, which has a glass enclosure at the front and the little galleries that house the Thomson Canadian Collection. They're really interesting little spaces 'cause they've got these weird slanted skylight apertures.
The piece is also about the specific ensemble for whom I'm writing it—the Radiant Brass Ensemble. The group was formed by John Oswald to play his music along with an electroacoustic score of prerecorded music for a choreography by his wife Holly Small. Since then, the band has continued to perform various site-specific things.
GL: What do you look for in acoustic spaces and how did you compose the routes through them?
ST: It comes down to aesthetics. I like resonant spaces. Most of the space in the AGO is fairly resonant. The material of this piece is going to be quite sonorous. In general, the players will be playing held tones or the slow pulsation of tones in a given harmonic series. This material will change, based on the player's location, the direction he or she is moving, and the stage of the piece.
Planning the routes also has to do with sightlines. I like the idea of people looking down a long corridor and seeing someone pass through their sightlines or in front of particular works of art. I find that intriguing. There's a particular diagonal where you can see a Lawren Harris painting that I have long admired; and to imagine a trumpet player walking by it—that's pretty lovely, in my imagination.
One of the basic premises of my cartographic pieces is that there is more music happening in a given context than any single listener can hear. As a result, audience members are invited to make creative choices about where to be and when to be there. This will have a tangible impact on how they experience the piece. Copies of the score-program will be available to the public and, with these in hand, listeners can plan.
GL: In the case of AGOrienteering, how does the process of composition carry on through to the musicians?
ST: They're responsible for the sounds—whether I notate those on a staff or not. There are some points in this piece where they will be invited to improvise together, namely at the convergences of their routes. They'll be given a couple of minutes, within the context of their route and their time index, to play together. They get to create a musical form based on response and responsibility and creativity and contingency, like all improvisers do. While the general idea for AGOrienteering is quite well established in my mind, the details of the piece—where the magic resides—will remain concealed until performance. That's the way that I like it, and I think the piece will be stronger for it.
---
Image: A sketch outlining the musician's paths in the Art Gallery of Ontario for Thomson's AGOrienteering . Image by: Scott Thomson.