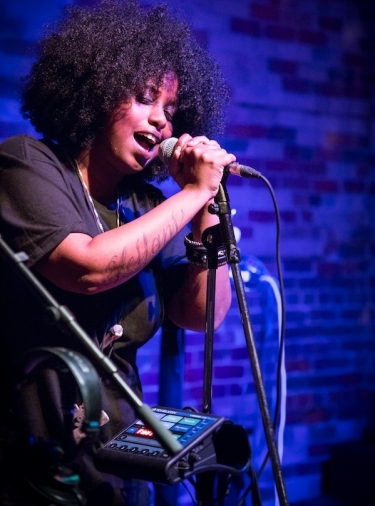 "Eh Yo! Eh Yo, Leilani!," she heard as she walked down a bustling New York City street. Turning around to see a friend calling out to greet her in the way that only the hip-hop generation can, Leilani (Hawaiian for "gift from the heavens") realized she'd just found a captivating addition to her current name: she reconfigured "Eh Yo" to "Ayo" to create the stage name Ayo Leilani. Years later, having cofounded the multimedia artists collective 88 Days of Fortune and the trio Above Top Secret, Leilani rebranded herself once again. Fellow 88 Days member Latasha Alcindor, aka L.A., often called Leilani "witch prophet lady" because of her interest in tarot cards, which inspired the moniker for her solo project, Witch Prophet.
As a child of Ethiopian–Eritrean (Habesha) descent growing up in Toronto, Leilani gravitated toward making music, which she did at her grandmother's house after Sunday mass. "Every Sunday we'd go to my grandmother's house, and the kids would be shushed away," she recalls. Together with her older sister, cousins, and aunt, the Cousins Band (as they called it) would create and perform music, short skits, and commercials. As she approached adolescence, Leilani became incredibly wild; her friends would often note that she was always being punished and that her name would be on the chalkboard for not finishing her homework. She felt disconnected from academic studies, but enjoyed the social and creative outlets available in the education system, such as serving as the morning-radio DJ at her high school. Leilani admits she stole money from her parents, despite often being caught by her mother. At age eighteen, during her senior year at Oakwood Collegiate in Toronto's northwest end, Leilani's world dramatically changed. Now pregnant, Leilani decided to drop out of school. "It made me go from kinda like this selfish teenager to being like, 'Whoa! Every dollar counts,'" she says.
If the pressure of being a teen mother weren't enough, Leilani was also struggling with how to come out to her deeply religious family. At age twenty-six, Leilani used her parents' ensuing divorce as an opportunity to disclose that she was queer. Her parents' divorce challenged her beliefs about family structure and underlined how deceit and lies get in the way of living one's truth. Leilani's mother and father were incredibly supportive—a pleasant surprise, she recalls warmly.
During her development as an artist, Leilani chose not to incorporate her ethnicity into her creative work. It was difficult to be Eritrean-Ethiopian-Canadian and openly queer, she says, especially given that she is from a well-known family in the Habesha community. Later, however, Leilani reconsidered her decision, and came to feel that it was important for her to be both culturally visible and sexually out. She believes that her presence creates comfort for others who are Habesha but who do not feel safe enough to declare their queerness.
In December 2015, during a two-week artist residency at Toronto's Artscape Gibraltar Point, Leilani worked on two forthcoming EP projects, both of which heavily incorporate her ethnic identity. The first, HPB, short for "Helena Petrovna Blavatsky," in part commemorates a famous nineteenth-century occultist, spirit medium, and cofounder of the esoteric Theosophical Society. For this project, Leilani commissioned her son Darshan, now fourteen, to draw the album artwork. Her second EP, DNA Activation, uses various sonic elements of Ethiopian culture, including tribal drums and layered bass beats. The album artwork, designed by Eritrean-Canadian blues singer Dotted Blues, features a collage of the nine nomadic Eritrean tribes. Also on its way in 2016 is Leilani's debut full-length album The Golden Octave, which incorporates Ethiopian elements in the form of sound bites and drums on the record, and which is accompanied, when she performs it live, by projections of dancing tribal women alongside magical and esoteric symbols.
Though Leilani is often described as a musician who uses hip-hop beats layered with R&B vocals, she and her beat-making bandmate (also her romantic partner) Francesca Nocera (known as Sun Sun) prefer to classify Leilani's sound as operatic-soul–hip-hop fusion. The sonic foundation of much of Leilaini's solo work is lush harmonic soundscapes. Layering her vocals in even and uneven ways, Leilani conveys her magic through phrases that linger and swell, sliding and bending slowly from one pitch to another as only blue notes do. Against the ambient electronic textures and persistent pulsing drum creations of Sun Sun, Leilani's performance styles vary: at times they are pleasantly complementary, at other times haunting, and at still others fearlessly experimental. Steering away from the intricate ornamentation and colourful vocal embellishments typical of R&B, Leilani rests her beautiful voice in the simplicity of delivery and the warmth of her subtle vibrato. This voice has carried her on two European tours, in 2012 and 2013, through Paris, Amsterdam, London and Berlin, and to music festivals such as Toronto's Manifesto and Pride Toronto, Atlanta's Black Women Rock, Brooklyn's Afro Punk and Soul of Brooklyn, Detroit's Allied Media Conference, Vancouver's Under the Volcano, and Canadian Music Week.
Lyrically, Leilani creates narrations that articulate her thoughts about spirituality, magic, feminism, internal strength, and higher power. In her collaborative expressions with Above Top Secret, the focus of her lyrics shifts to topics such as missing indigenous women, the proliferation of chem trails, and the controversial practice of organ harvesting. Upon listening to her creations, it is clear that Leilani is not afraid to make listeners feel uncomfortable while pursuing existential queries that interrogate her purpose in life. She believes that there has to be something more than "sleep, eat, work, and repeat"—and music is exactly where she pursues these questions.
---
2018 update: Witch Prophet performs May 9 at Canadian Music Week in Toronto; May 13 at the Art Gallery of Hamilton; May 18 at New Skool Rules (Biggest International Urban Music Conference and Festival) in Rotterdam, the Netherlands; and various Canadian dates this summer. Her new album,
The Golden Octave
, drops May 18.
---
Photo of Ayo Leilani by: Brendan Albert
Audio: Save Me
(2014) Written and performed by Witch Prophet (Etmet Musa). Included on the Musicworks 125 CD.