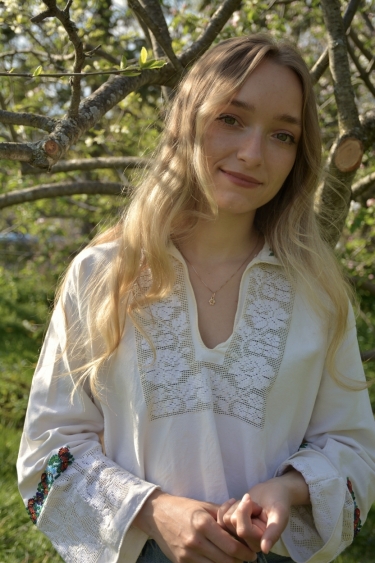 Ukrainian Canadian multidisciplinary artist Diana Nadia Lawryshyn uses technology to layer sounds just as she layers brushstrokes in her paintings. She invites listeners to slip on headphones, sit back, and let the arrangement tell a story full of captivating imagery that will be reshaped and enriched with every listen.
Her electronic composition Traditions Made; Stories Told  won the 2022 Marcelle Deschênes Prize in Electronic Music, which comes with a $300 cash prize. All composer entrants to the Musicworks EMC Contest who self-identify as female or non-binary are eligible for the Marcelle Deschênes Prize.
Traditions Made; Stories Told was inspired by a drawing she created in her teenage years: "The drawing features symbols that mirror the main characters and themes of my favorite Ukrainian storybooks, which were read to me as a child. I arranged the animals in a circular formation to represent growth and development. Although I did not have a specific intention for the drawing at the time, in hindsight, I realize that it was likely a product of my turbulent teenage years, where every challenge felt like the "end of the world." I longed for the simplicity of my childhood."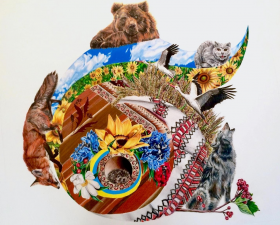 Lawryshyn's "City Project with 3rd Movement" was awarded an honourable mention by the jury of the 2021 Musicworks EMC Contest.
Her compositions have earned praise from numerous composers and faculty members at Queen's University, where she obtained her undergraduate degree in music, education, and visual art. Upon graduation, she was awarded the Maurice Dubin Prize in Composition and was subsequently commissioned by the Queen's University Chamber Orchestra to compose a work for its next season.
Diana plans to broaden her studies of the arts at the University of Toronto, while continuing to inspire the next generation of musicians as a piano and visual art teacher, working from her private studio.