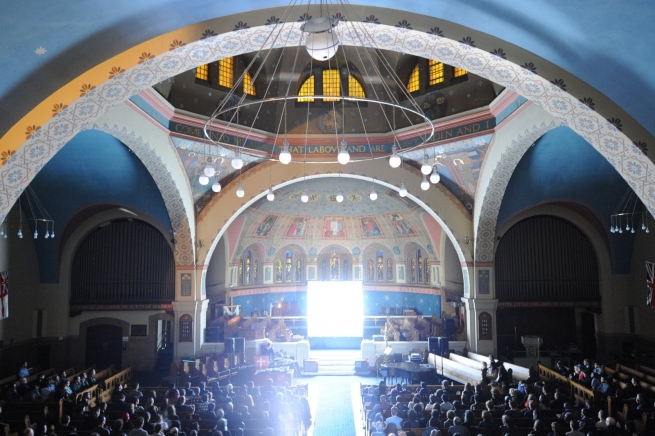 That's me in the spotlight . . . or, more accurately, that's me in the third pew, left of centre aisle. In the photograph, I am the small mass of auburn hair lit up by the white glare of the big screen at the opening night gala of the 2013
Images Festival
, the venerable and very large spring-timed celebration of experimental and independent moving image culture, held in Toronto annually since 1987.
I've spent a lot of time in churches. My father was, and still is, a talented church musician. Growing up in Ottawa, I sang in the soprano section of many of his choirs, listened proudly to his rafter-rattling postludes—often while pulling out stops and turning pages. Going to church was as integral to my music education as formal classical piano lessons, collecting punk and new wave records, and listening to CKCU-FM.
Shuffling in my almost-front-row-seat in glorious interior of St. Anne's Anglican Church this past April, waiting for the performances to begin, I was in a comfort zone but also feeling a kind of "opening-night" jitters. A few days earlier I'd been interviewed for the job of Musicworks editor. I would need to clear a couple more hurdles and wait several more days before the hiring committee made its decision.
Nothing like earth-shaking drones and ethereal loops bouncing around a church sanctuary  to keep one grooving in the moment.
Musicworks
#114 (Spring) cover artist
Tim Hecker
performed mesmerizing sonic complement to the lyrical 16mm visuals of Robert Todd and, preceded by the world premiere performance of Toronto turntable artist SlowPitch's
Emoralis
(which former Musicworks editor Micheline Roi assigned me to write about the very next week!).
Cut to July, and I'm not even the new kid anymore. Anastasia Klyushin joined
Musicworks
as its new Operations & Circulation Manager earlier this month. We are learning the ropes together, and can't wait for you to discover the eloquent words, images and sounds of
Musicworks
#116 (Summer)—including Nick Storring's cover story on saxophonist and composer Colin Stetson, short listed earlier this week for the 2013
Polaris Music Prize
. 116 was Micheline's final issue as editor, and it was my pleasure—and education—to help out during the last couple weeks of production.
As Micheline wrote at the close of her final Musicworks editorial: "See you in the next sound adventure."
(Or as my grandfather used to say, with a wink, "See you in church!")
[POSTED JULY 19, 2013]
---
Image: Images Festival 2013, opening night, St. Anne's Anglican Church, Toronto. Image by: Henry Chan. Courtesy of the Images Festival.