TWO YEARS AGO, TANYA TAGAQ LANDED ON THE COVER OF MUSICWORKS. Her unforgettable voice has been in my head, so to speak, ever since. Our Spring 2014 CD opened with "Tulugak," a wild evocation from her album Animism, which won the Polaris Prize later that year. Our cover story, written by Mary Dickie, now seems prescient—a cozy encounter with this singular artist, in a reflective yet anticipatory mood just before her international career hit overdrive. All this brings me to Spring 2016 and the human voice theme that hums throughout the issue.
Singer and composer Christine Duncan is the founder–conductor of the Element Choir, a structured-improvisation choral group that's been an active force in Toronto's experimental-music community for almost a decade. For the past year or so, Christine and the Choir have also been the go-to backing chorus for Tanya Tagaq's Toronto concerts. Watching a soundshape-shifting performance by Tanya, her trio, and the Choir is a mind-body experience. What's it like, I wondered, to take part in one? Always primed for adventure, writer and lapsed "elemental" Jonathan Bunce rejoined the Choir to take us behind the scenes, as the group prepares for a major performance with Tanya at Massey Hall, in a feature that also reveals the turning points in Christine's creative life. Photographer Kevin Jones captures the Choir in action during rehearsal and in the recording studio. Christine has an exciting year ahead. Tune in to our social media platforms and monthly e-letters for updates.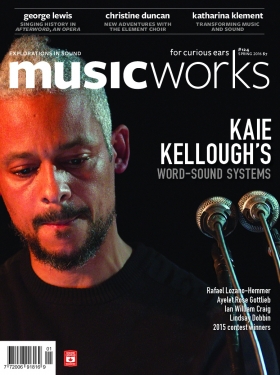 Kingston's fall-timed Tone Deaf festival is what got me thinking about Tanya Tagaq, who performed at its 2013 edition. While perusing the fest's 2015 lineup, Montreal language artist Kaie Kellough caught my curious ears. Award-winning journalist Dalton Higgins (who literally wrote the book on Drake) makes his Musicworks debut with this Spring's cover story, which explores Kaie's journey, ideas, and creative work. Photographer Pierre Langlois gets some fresh portraits of Kaie around Montreal.
This issue brings you photos from the world premiere of composer George Lewis' Afterword, an opera, based on his 2008 book A Power Stronger Than Itself: The AACM and American Experimental Music, and a recording of a full scene from an earlier, partial performance of the opera—all of this enhancing Kurt Gottschalk's piece about Lewis' recent work.
In this issue we announce the winners of our 2015 juried composition and writing contests, and publish the first-place-winning works. Listen to and read about Colombian composer Juan Camilo Vásquez' Calíope (canto de las abejas) for guitar and electronics, and read British experimental performance artist and writer Imogene Newland's poem "Sonic City." The first-place winner of our 2013 writing contest, Vienna-based Canadian composer and writer Caitlin Smith, returns to Musicworks with a thoughtful feature on the transformative music and sound art of Austrian composer Katharina Klement.
Also in this issue, contributing editor Nick Storring talks tape with sonic alchemist Ian William Craig, Greg J. Smith explores the role of voice in the work of Rafael Lozano-Hemmer (recipient of the 2015 Governor General's Award in Visual and Media Arts), and Alexander Varty interviews Israeli singer-composer Ayelet Rose Gottlieb.
For those of you hankering to skip spring and jump right into summer, Andrew Patterson's feature on the spirit-probing work of Lindsay Dobbin takes you to the ocean and suggests a liberating form of creative expression you may want to try at the beach next time: water-drumming!
---
Top photo: Christine Duncan (back turned) conducting the Element Choir during Tanya Tagaq's December 2015 concert in Toronto's Massey Hall. Photo by:  Courtesy of Live at Massey Hall | Malcolm Cook