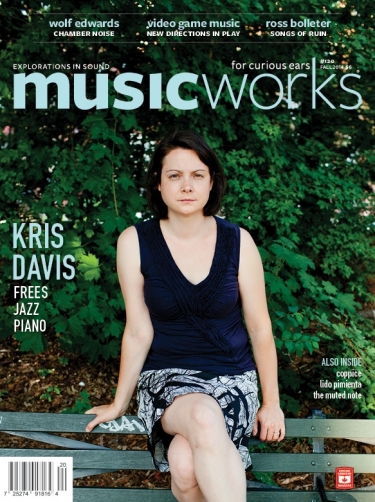 For twenty years I've been roommates with a mahogany-stained Heintzman upright piano that has been in my family for five decades. I've played numerous black Yamaha uprights and Steinway grands; once, I performed Chopin pieces on an enormous brown Bösendorfer that put me so in the moment that the piano seemed to be playing itself. But my well-weathered Heintzman is a piano with a story to tell.
I was inspired to contemplate my piano BFF after discovering Ross Bolleter, a West Australian virtuoso of what he calls "the ruined piano." Australian composer and writer Henry Andersen told me that Bolleter's unique practice of working with ruined pianos had not received the critical recognition it deserves, and I agreed. His eloquent feature is enhanced by Traianos Pakiofakis' original photos, taken in Bolleter's home and at his ruined-piano sanctuary. Bolleter, who has two tracks on this issue's companion CD, is planning a Spring 2015 tour that includes Canadian cities; I expect he'll hunt for pianos ravaged by our particular climate, and coax them into revealing some sonic secrets.
With pianos in mind, I asked New York music writer Kurt Gottschalk to catch up with Canadian jazz pianist and composer Kris Davis for a feature that was on my to-do list. John Rogers snapped the exclusive cover image in a park close to Davis' stomping grounds. Davis studied in Canada, but over the past decade has been building up a stellar reputation as a leader, collaborator, and recording artist in her New York home base. I'm excited to introduce (or reintroduce) Canadian readers to Davis, who hasn't performed in her homeland since 2007—fingers crossed that this Musicworks spotlight will cajole programmers to let Canadians experience her exciting music firsthand in the near future.
If pushed to name a theme for this issue, I would say it's not the piano but, rather, the notion of play, which is explored in "Playing the Music" by Zack Kotzer, who brings a fun, personal touch to his feature about new directions in video-game music. You'll also find the concept of play in the spinning tops of Myriam Bleau's Soft Revolvers, in the art of collaborative sparkplug Lido Pimienta, and in the field-note gathering of composer Emilie LeBel.
Kotzer writes about Canadian-designed Sound Shapes, which inspired the new moniker for the pages formerly devoted to DIY. "Sound Shape" is the new tag for Musicworks features that dig deeper into the physical aspects of experimental music-making. In this issue, Nick Storring gets technical with Chicago duo Coppice, and Jonathan Bunce explores the synergy of poetry, dance, and music in The Muted Note.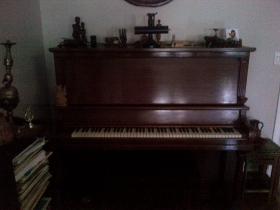 As for my Heintzman, well, it's regularly bashed upon. A restorer told me my piano was built in 1911. My father, a church musician, who was born and raised in Toronto, bought the piano in Alberta in 1964 and moved it back to Ontario soon after. I've seen it taken apart and put back together more times than I care to remember. I've taught students, written short ditties, improvised in the wee hours, and enjoyed hearing my daughter practice on my piano. And just recently I confirmed that it was built in a factory on Toronto's Heintzman Street, just two blocks from the house I moved into last year. No wonder she sounds so happy!
All this reminds me of how important it is not to neglect the instruments we have at hand. They want to be played. They don't care if you've practised. Play your piano. You will both feel good.
[EDITOR'S NOTE, #120, FALL 2014]