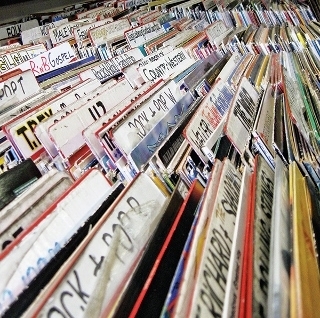 When I was working at the Kingston Whig-Standard in late 1980s, when the daily was still independently owned, I would make my way up the city's main drag at least once a week for some serious crate-diving (back then, people were replacing their vinyl with CDs like mad), then head home with an armload of used records (classical, jazz, punk, greatest-hits compilations—you name it) to start working on my next mixed cassette.
In the shops, my picks were informed by my tastes and by tips from others, and I was always on the hunt for records that looked like they might be weird or exotic or challenging. I often fell in love with them, or at least, I would learn something. In making a mixed tape, I'd have the intended recipient in mind, but events happening in the world around me would also come into play. The intense listening (and rewinding to listen again), the attention to segues and mood shifts, and even the physical busywork (vinyl cleaning, note-taking, cover designing) were part of the pleasure. At some point late in the process (usually late at night), something new would emerge—connections, both overt and subtle, between the tracks. It was as if the singers, saxophonists, strummers, pummellers, tunesmiths, and lyric-crafters had introduced themselves to each other while I was out of the room and had come up with something much deeper in meaning than the ear-catching, eyebrow-raising, seamless flow I was aiming for.
I go through a very similar experience with each issue of
Musicworks
: that familiar rhythm of hunting, decision-making, and assembly is one of the kicks of the job. But it's only when the articles move into design and start to rub up against each other that I notice connections in the mix. I invite you to find your own, as you dig into the Spring 2015 issue.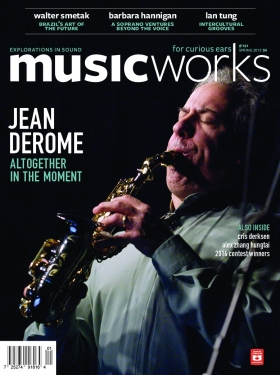 A tip from Scott Thomson (read about him in "The Evolution of The Muted Note," Musicworks #120) easily convinced me it was time for a cover story on Montreal's Jean Derome, whose wide-ranging creative work takes the spotlight throughout 2015 in many performances and new projects. "I am looking for the sparkle in life, contact between players and between the music and audience," he tells writer Lawrence Joseph. You can feel Derome's sense of joy in his words and in the photography of Jean-Claude Désinor.
Contributor Alexander Varty described Lan Tung to me as an erhu virtuoso, improviser, and intercultural sparkplug—no kidding! Our feature beautifully conveys Tung's infectious energy, her breathless pursuit of creative adventures at home in Vancouver and abroad, and her commitment to changing people's perspective on Chinese music.
In a feature I'm pretty thrilled about, Neil Leonard takes readers through his personal discovery of the work and ideas of the late Walter Smetak, a Swiss-Brazilian cellist, transdisciplinary artist, and mystic, who invented 150 plástica sonora (sound sculptures) that range from playable instruments to cryptic sculptures. Almost nothing about Smetak—who performed and recorded with Gilberto Gil and Caetano Veloso, and mentored Tom Zé—has been published in English. I hope our story will open the door to further discussion of Smetak's art.
FYI: Record Store Day is April 18, 2015.