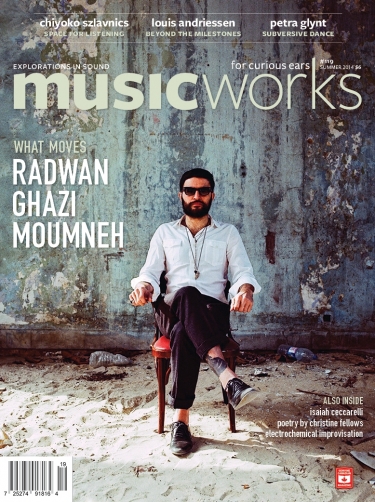 One Friday evening in early May, I jumped on my bicycle and dipsy-doodled to the Music Gallery along Toronto's pothole-ravaged streets. Musician–producer Radwan Ghazi Moumneh was premiering a new work by Jerusalem In My Heart, the evolving performance project he founded in 2005. With a Canadian tour in the early summer, and European dates in the works, JIMH is certainly a high-profile item on the Montreal artist's music agenda right now. But, as you'll discover in the Summer 2014 issue (#119), he has much more to talk about. "In the context of his rich life story, Moumneh's work and values crystallize in a way rarely evidenced on the surface of his music," writes Montreal novelist Dimitri Nasrallah, in an energetic feature that goes straight to the heart of Moumneh's creative life. The cover photo and all the images in the feature were taken by Tanya Traboulsi, a wonderful photographer whose work also appears in print version of "
The New Sounds of Lebanon
" (#117).
When I put together an issue of Musicworks, I begin by responding to general things—what catches my ear, what stories feel timely—then gradually a shape or a mood emerges.  While working on this issue, I kept thinking about how my experience of listening changes in the summer. I am not referring to the abundance of al fresco music festivals, patio chatter, or summer pop hits blaring from the open windows of cars. I am thinking about the sounds heard while swimming at the beach, lounging in the hammock at the cottage, or hiking on the Bruce Trail. When the constant drone and clatter of my usual environment is gone, I can hear a greater variety of sounds around me. Instead of tuning out, as one so often does in a noisy city, I listen more intently and feel more keenly an intimate connection to sound.
Some of the artists in the issue want to draw the listener closer to the natural world through their work. On the CD, Portuguese sound artist Gil Delindro mixes inputs from amplified ice cracking with field recordings and other sounds in a recent live performance, and Erin Sexton performs a fresh electrochemical improvisation, recorded in her Montreal studio. (She'll be performing at the Electric Eclectics festival in Meaford, Ontario, in early August 2014.)
In contributor Julian Cowley's eloquent feature, composer Chiyoko Szlavnics—whose name will be familiar to longtime Musicworks readers—shares a few powerful stories about revelatory listening experiences, and talks about creating space for listening in her longer works. "The slowed-down-ness of these pieces allows you to hear beating and other unexpected acoustic phenomena," says Szlavnics, who is based in Berlin but was born and raised in Toronto. "A stillness enters the music, allowing listeners to notice things, to think, and to reflect." On the CD, I think you will find a similar quality of stillness in her three short Constellations compositions, which are performed by Toronto pianist Eve Egoyan.
In a lively feature interview with René Van Peer, the famous Dutch composer Louis Andriessen (celebrating his 75th birthday this year!) talks about his preference to write for people he knows personally. One of those people is Italian singer Cristina Zavalloni, for whom he has written several compositions over the years. The CD offers something a little different—a rare improvisation performed by the two friends at a festival presented by Music on Main in Vancouver a few years ago.
Also in #119: A Profile on Isaiah Ceccarelli, a Sound Bite on Petra Glynt, Michael Trommer's The Show (In The Works), poetry by Christine Fellows (Sonic Geography), a story on the Caduc label, and an array of recording, event, and book reviews.
Enjoy the intimate experience of discovering the summer reading and listening in 
Musicworks
#119.
Subscribe
now to have every word and note delivered to your mailbox.
[ONLINE VERSION OF EDITOR'S NOTE FROM MUSICWORKS #119, POSTED MAY 16, 2014.]
---
Image: Cover of Musicworks, Summer 2014, #119. The issue and its ten-track companion CD are mailed to subscribers the last week of May 2014, with the print issue also hitting Canadian newsstands at the beginning of June. Select content from #119 will be posted on the Musicworks Web hub later in the month.
Photo by: Tanya Traboulsi.