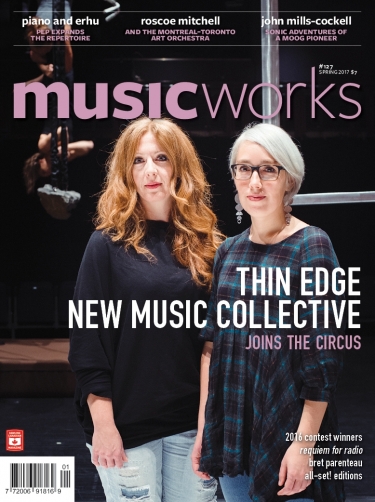 Musicworks is blooming with big ideas! Explore the personalities and collaborative dynamics behind an array of creative Canadian projects in our Spring 2017 print issue -  ON CANADIAN NEWSSTANDS NOW.  Single copies also available to order from our store. 
New music meets new circus in Balancing On The Edge, the latest high-wire project from the ambitious Toronto ensemble Thin Edge New Music Collective. Pianist Cheryl Duvall and violinist Ilana Waniuk (Thin Edge founders and artistic directors) are deeply involved in the commissioning and performance of adventurous contemporary music. Since its first season, Thin Edge has been presenting new music in increasingly varied venues and contexts, and building ongoing relationships with composers and simpatico artists and organizations. This spring, Raging Against the Machine, Thin Edge's double-sextet project with Montreal's Ensemble Paramirabo, released its eponymous debut recording on Redshift Records and completed a Canadian tour. Musicworks editor Jennie Punter talks to Duvall and Waniuk about their musical friendship, and digs into the inspiration and process behind the ensemble's biggest and most challenging project to date. 
An all-star ensemble of Canadian improvising musicians, assembled by bassist Nicolas Caloia and trombonist Scott Thomson, undertook an ambitious project with the distinguished American saxophonist and composer Roscoe Mitchell, a veteran of notable groups such as the Art Ensemble of Chicago. Stuart Broomer follows the orchestra from its inception, attending its Montreal rehearsals and Toronto concert and recording session, as its members encounter Mitchell's challenging new project, that explores relationships between composition and improvisation. Mitchell has been developing a number of orchestrations for ensembles, ranging from symphony orchestras to chamber groups, based on transcriptions of recorded improvisations originally created by his trio with pianist and electronic musician Craig Taborn and drummer Kikanju Baku. Broomer reports on the process he witnessed unfolding and  discusses the restricted (and restrictive) role of transcription in jazz.
John Mills-Cockell is a pioneering electronic composer whose projects trace a continuum from late 1960s multimedia collective Intersystems to the melodic genre-hybrids of early '70s instrumental trio Syrinx. He has collaborated with artists such as Kensington Market, Anne Murray, and Bruce Cockburn, alongside solo ventures in ambient music and progressive rock, plus celebrated scores for theatre, film, and television. This astral body of work is now being celesbrated in a three-part retrospective series compiling Mills-Cockell's recordings from 1967–1977. While tumbling through his vaults, he is also returning to the name Intersystems for a pair of new studio projects, and preparing to perform Syrinx's music live for the first time in decades. Jesse Locke spoke to Mills-Cockell at his home on Vancouver Island and connected with several other longtime collaborators to detail their histories in their own words.
Vancouver pianist Corey Hamm and erhu virtuoso Nicole Li have commissioned 60 (and counting) works through their duo project PEP.

In The Works: We've got the scoop on Still Listening: New Works in Honour of Pauline Oliveros (1932-2016), an art exhibition, concert series and conference taking place in Montreal this June.  

The prolific Bret Parenteau's power electronics, field recordings, and loops anchor the growing roster of his Winnipeg DIY label;
In Sackville, New Brunswick, sound artist Amanda Dawn Christie is extending the "ghost story" of her 2016 documentary Spectres of Shortwave into the adventurous Requiem for Radio series.  
Also in this issue: Meet our 2016 contest winners Craig Aalders (Electronic Music Composition) and Tom Wayman (Sonic Geography Writing).
On the CD: Hard-to-find or previously unreleased tracks from Thin Edge New Music Collective (Toronto), Roscoe Mitchell and the Montreal-Toronto Art Orchestra, John Mills-Cockell (Victoria), Vancouver's PEP (Piano Erhu Project), 2016 Electronic Music Composition winner Craig Aalders (B.C.), Bret Parenteau (Winnipeg), and Amanda Dawn Christie (New Brunswick).