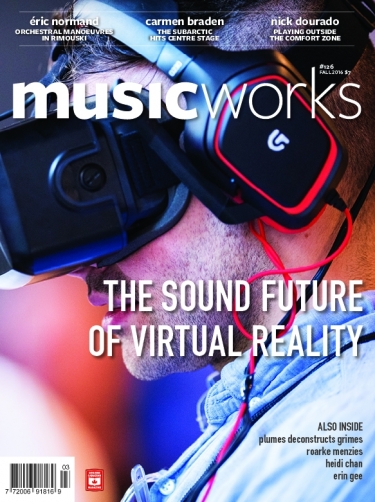 Are you experienced? Even if you haven't strapped on a virtual reality headset to interact with brave new computer-simulated worlds or to visit real-life remote locations (Mount Everest!) or to watch 360° music videos, news documentaries, and pro-sports games, you know that V.R. is here. Earlier this year, I started wondering about the role of sound in this emerging medium. Do artists have new tools and ideas? Are there challenges in engaging the ears in the sphere? Regular contributor and HOLO magazine editor Greg J. Smith (who recently attended a conference called "Weird Reality: Head-Mounted Art & Code") provides some answers in his engaging cover story exploring the sound future of virtual reality.
And now, back to reality.
"In this place, outside the usual circuits, I'm just trying to make possible the expression of more personal views on music-making, outside of pop, outside the academic, outside the hip." This sentiment could have come from many people in this, or for that matter any, issue of Musicworks. The person who said it is Éric Normand, musician, creative instigator, and do-it-yourself instrument inventor, who's been instrumental in turning the small city of Rimouski, Quebec, into a free-improvisation hub. In addition to leading an active improvising orchestra and running a small label, Éric invites notable artists from much larger centres to come and work with local musicians and, in turn, takes Rimouski-style large-ensemble music on the road. His inspiring story unfolds in Stuart Broomer's insightful feature, complemented by the beautiful photography of Marie-Eve Campbell and a "Broomer bonus"  article on the art of conduction, and is further enhanced by three tracks on the companion CD to this issue.
Move your eyes and ears 3,147 km northwest of Rimouski (as the raven flies), and you'll find composer, songwriter, and sound ecologist Carmen Braden similarly engaged in personal expression and creative collaborations that extend well beyond Yellowknife, Northwest Territories. South of her subarctic stomping grounds, Carmen often encounters the perception that she lives and works on the periphery of the places and music that matter. "[It's] something that gets my hackles raised a little bit, and that I like tackling," she tells writer Samia Madwar (formerly of UpHere magazine, now managing editor at The Walrus). "The core idea behind it is: I am at the centre. I am the centre."
Now shift your focus 3,688 km southeast of Yellowknife (as the herring gull flies), and you will likely find Nick Dourado on stage, because he seems to be in every cool Halifax band there is. If he could leap off the page, improvise on every instrument in your house, and play you a cassette of new music by a fellow Haligonian, he probably would. Contributing editor Nick Storring and photographer Eli Gordon capture both the infectious energy and more introspective side of this seriously rambunctious musician.
Did you know that . . .
Erin Gee's new performance works transform the language of bodies (sweat! breath!) into electronic sound?
Roarke Menzies' evolving solo projects help make the postindustrial frontier of Brooklyn a hotbed of post-rock soundscapes? 
Plumes Ensemble is warming up for the collaborative project Many Visions: Plumes Deconstructs the Music of Grimes, which tours various Canadian cities in March 2017?
Heidi Chan combines her passions for arranging, technology, and folk music-making in an array of solo and duo projects?
---
Cover image of MUTEK Montreal 2016 by: Trung Dung Nguyen, Courtesy of MUTEK Montreal