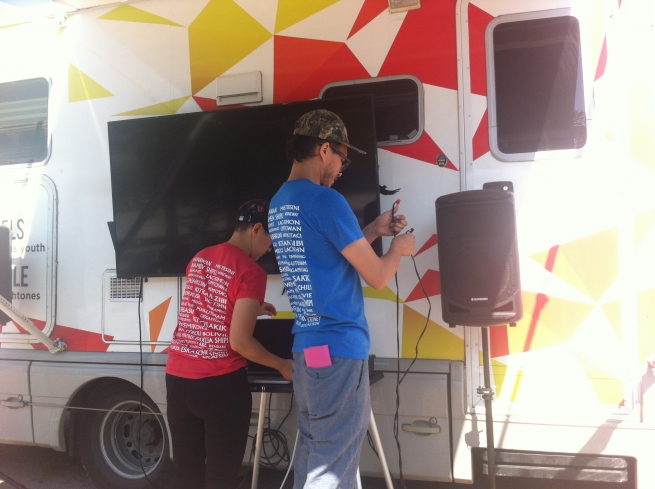 I "Like," "Love," "Follow," and otherwise engage with an array of working musicians and music people—from coast to coast and beyond—through my Musicworks and personal social-media channels. They share news of residencies or gigs or recordings, commiserate, debate, and celebrate. And when they're researching sound equipment or places to crash—or specialized things like score proofreaders—they crowdsource.
Which brings me to saxophonist and community instigator Karen Ng, who has become "a pillar of the Toronto music scene," as Mary Dickie writes in this issue's Profile feature. When she isn't on tour with singer–songwriter Andy Shauf, Karen is blasting a set at the beloved Tranzac Club, teaching woodwinds at Regent Park School of Music, or kickstarting (old-school style) a new improvised-music festival. She rarely stands still, let alone pauses for someone to take her picture. So in my local community, I found other pillars—Joe Strutt (crucial experimental-music blog Mechanical Sound Forest), percussionist Joe Sorbara (Somewhere There Creative Music Festival) and Cem (pronounced "Jem") Zafir (Hamilton's Zula Music and Arts Collective)—who fired over their photos of Karen, who, not surprisingly, is always playing, always in the middle of things, right where she belongs.      
Some of the other articles you will soon be reading (perhaps while listening to Karen's impressive wallop of a solo sax improv on the Musicworks 129 companion CD) also include the visual rewards of my crowdsourcing efforts.
Montreal-based multimedia artist Geronimo Inutiq (see above) was also on the move for most of 2017, travelling across Canada as the cofacilitator of Wapikoni Mobile's Cinema on Wheels, which presented programs of short films by Indigenous youth in more than 100 communities. While Montreal writer Crystal Chan was tracking and writing about Geronimo's creative journey for her fascinating cover story, I followed his enjoyable Facebook updates. When it came time to gather photos, I crowdsourced widely, but ended up finding the perfect idea in the place I had been visiting all along: all the Geronimo portraits were made by media artist and curator Jocelyn Piirainen, who was posting as part of the Wapikoni team. (By the way, this issue's CD opens with Geronimo's dynamic 2008 song "Seal Flipper," which features Sylvia Cloutier's throat-singing samples.)
For his feature on A Place To Listen, contributing editor Nick Storring had conversations with several Victoria composers who also participate in the listening series' composer-driven ensemble. As I corresponded with the composers (six of whom are represented on our CD), I was inspired by their community spirit. Composer Christopher Reiche, former New Music curator of Victoria's Open Space, recommended photographer Adrian Paradis, who captured the in-between moments at APTL's season-opening concert for a beautiful accompaniment to a story that, I expect, will turn your reading sanctuary into a place to listen.
FIND OUT WHAT'S BETWEEN THE COVERS AND ON THE CD OF THE WINTER 2017 ISSUE!
---
Photo: Geronimo Inutiq and Jocelyn Piirainen setting up Wapikoni's Cinema on Wheels in Montreal. Photo by Crystal Chan, writer of the Winter 2017 cover feature.