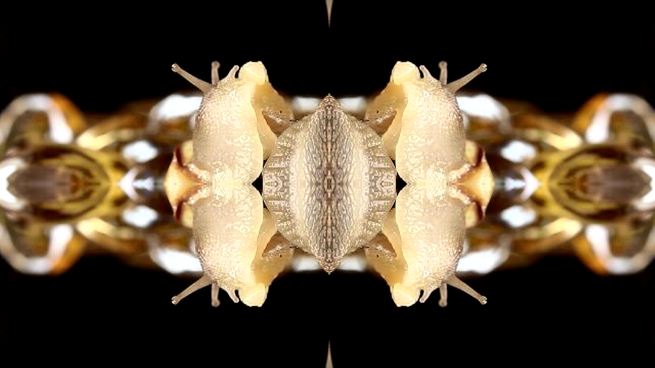 On a rainy April evening in Toronto, in the darkened hush of historic St. Anne's Anglican Church, the first frame of the 2013 Images Festival appear—a live black-and-white projection of the deft hands of turntable artist SlowPitch. As the frames progress, you can literally hear and see a needle drop. Then comes a hard tectonic crackle, gradually layered with languid beats, earthy drones, and rumbling loops that ooze towards the audience as the screen fills with shimmering colour-drenched mirrored images of common garden snails in motion.
As it turns out, terrestrial pulmonate gastropod molluscs can groove.
Emoralis, a twenty-five-minute live audiovisual piece devised by SlowPitch (Cheldon Paterson) and his creative and life partner Wifihifiscifi (Vanese Smith), is like an animated Rorschach inkblot test with a sound track that nudges the imagination—a work of tiny perfect symmetry balancing composed and improvised sound, nature and technology, fantasy and reality.
"We're like a walking library of snail knowledge now," Paterson laughs, referring to the self-directed research that accompanied the pair's creative process. Last year Smith became fascinated with the backyard denizens and started filming them doing what they do—undulate, emerge, glide, flaunt their antlers, excrete mucus—against miniature homemade backdrops. "I was inspired to dig deeper musically, go micro, and started building base tracks. And then, as time went by, improvised sounds went on top."
In Emoralis, visual breaks from snail action show the DJ's hands working his gear. "It's a great way to show the similarities between the two—the circular visuals and the scratching sounds," says Paterson, whose dedication to education is manifested in his ongoing relationship with Toronto's Off Centre DJ School. 
While sonic highlights of Emoralis land on SlowPitch's spring 2013 release on Montreal-based Phonosaurus Records, the live version—featuring filmed snails, not live ones—is the intended form. Performances for 2013 include arts events in Montreal (MUTEK, June 1), Toronto (Sound in Motion, July), and Ottawa (August).
Audio: How I Go Through  (2013) 2:43 Composed and performed by SlowPitch (Cheldon Paterson). Image: Courtesy of SlowPitch and Wifihifiscifi.