"An absolute stroke of luck for opera" is just one of the countless accolades Canadian-born, Amsterdam-based soprano Barbara Hannigan has received for her performances of both classical and contemporary music. Composers and musicians she has worked with are unanimous in their praise. She has premiered a large number of major works, among them operas with roles written especially with her in mind, such as Written on Skin by George Benjamin and Matsukaze by Toshio Hosokawa. Hannigan travels all over the world to perform and do workshops. A few years ago she began conducting, and her singular approach to that art has so thrilled audiences, fellow musicians, and critics that an exciting new creative path has opened up for this very busy artist.
Hannigan has come a long way since moving from Waverley, Nova Scotia, where she was born, to Toronto to study music. "My career has been a real magical mystery tour," she says. "I don't come from a sophisticated background. All my life I just loved music. When I went to Toronto to study I knew nothing much about classical music. It was there that I heard both Mahler and Ligeti for the first time. For me, there was no core repertoire or fringe, I was just curious. I still am. I don't make decisions on what is good or bad other than through what I hear. In Toronto I hooked up with Continuum and Arraymusic, dived into jazz, also performed much old music. I was constantly exploring my voice. I am now basically still doing what I did in my twenties, only in bigger spaces."
After settling in Amsterdam fifteen years ago, Hannigan landed one of her first major roles, in Louis Andriessen's opera Writing to Vermeer, which she performed with the Asko|Schönberg ensemble. Reinbert de Leeuw, the ensemble's conductor, recalls their first encounter: "Louis told me that he wanted Barbara as the first soprano. When she sang her first notes in the audition I was blown off my feet. She has this amazingly beautiful voice. And on top of that she is perceptive, intelligent, and intuitive. She uses all these qualities to reach the core of what lies hidden in music.
"She is one of the few who can sing Webern's vocal music, and the Gepopo character in Ligeti's opera Le Grand Macabre. Even Ligeti himself, who was very critical concerning performances of his music, agreed with that. In the whole world there are maybe three sopranos who are up to performing that role."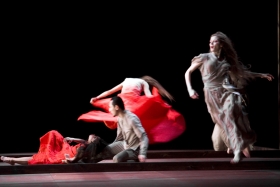 Many of the opera characters Hannigan has originated are complex women. Matsukaze, which is based on a fifteenth-century Noh drama by Japanese playwright Zeami, tells the story of two ghost sisters who cannot relinquish their yearning for a handsome nobleman who briefly stayed in their village. (This opera reveals another side of Hannigan's performance skills, as she joins the ballet in various dances.) In George Benjamin's contemporary opera Written on Skin, Hannigan portrays Agnès, the uneducated, teenage wife of a wealthy twelfth-century landowner who regards her as his property. The landowner commissions an illuminated book about his life and deeds from an accomplished young artist. Agnès taunts the boy, but when she sees his drawing of her—which depicts her as filled with desire—the boundaries of convention break, and they make love. The boy describes their love on a secret page in the book; Agnès, however, wants her husband to find out about it, so he will know that she is in control of her destiny.
"While in residence at the 2008 Lucerne Festival, I heard Barbara sing a three-minute unaccompanied monody in the huge space of the main orchestral concert hall, and within a few seconds I knew that I had found my soprano for Written on Skin," relates Benjamin, who worked with each of the five original cast members of Written on Skin while composing the opera. "I accompanied her [Hannigan] in lieder, took notes, and then designed the part of Agnès in the opera to fit her talents. I didn't employ everything I discovered during our sessions together; for example, her hyper-virtuosic ability in the highest register wasn't suitable for Agnès. But I most certainly exploited the wondrous floating sound of her middle tessitura and its ability to fuse with orchestral instruments, as I did her fearless ability to leap across the widest intervals. I virtually omitted a certain E flat (her least favourite pitch) in her role, and saved up her mesmerizing high G sharp (unambiguously her favourite note) for special moments. She has inhabited her role in Written on Skin, from its very first performance in Aix, with astounding imagination and intensity."
Hannigan's repertoire is not exclusively contemporary. She also sings Mozart arias and solo parts in Bach cantatas. "The choices that I make may seem funny or whimsical," she notes. "Bottom line is that I feel physically repulsed if I have to sing something I don't like, similar to eating food that I am allergic to. This isn't a matter of style or period. Donna Anna in Mozart's Don Giovanni and the title role in Debussy's Pelléas et Mélisande have always been on my wish list. Just like [the contemporary roles of] Agnès and Lulu, they carry a dark mystery inside, a secret that lies hidden in the shadows, as in a chiaroscuro. The balance between the different shades in these characters defines the architecture of the music. It is like a building with different rooms: I have to get an overall feel of what kind of building it is, to know whether I want to be there."
The composers she likes—Henri Dutilleux, Pierre Boulez, Benjamin, Ligeti, to name just a few—may be hugely different, but they all are original voices that combine intellectual ideas and emotion in their music. "I pursue what is interesting for me," Hannigan continues. "That can be a residency at a traditional, mainstream event like the Lucerne Festival, which I did in the summer of 2014. But I have an obligation to sing contemporary music. I understand it. I love it. I am passionate about it. I don't follow tradition—I tell that to the composers I work with, and that in doing so we can free each other, and I can more easily get to the core of their music."
THIS IS AN EXCERPT. TO READ THE FULL PROFILE ON BARBARA HANNIGAN - INCLUDING HER THOUGHTS ON MOVING INTO CONDUCTING -  BUY THE SPRING 2015 ISSUE (#121), OR SUBSCRIBE NOW AND ASK TO START WITH ISSUE #121. 
FYI
:
Barbara Hannigan returned to Toronto in early 2015 for the Toronto Symphony Orchestra's annual New Creations Festival, where she performed the North American premiere of Hans Abrahamsen's song cycle
let me tell you
, and sang the soprano role in the Canadian premiere of George Benjamin's opera
Written On Skin
. She will make her Canadian conducting debut on Oct. 7 and 8, 2015, with the TSO.
---
Top photo of Barbara Hannigan by Heikki Tuuli.  Photo of Hannigan and dancers in Toshio Hosokawa's opera Matsukaze by B. Uhlig. Homepage slider photo by Musacchio and Ianniello (c).