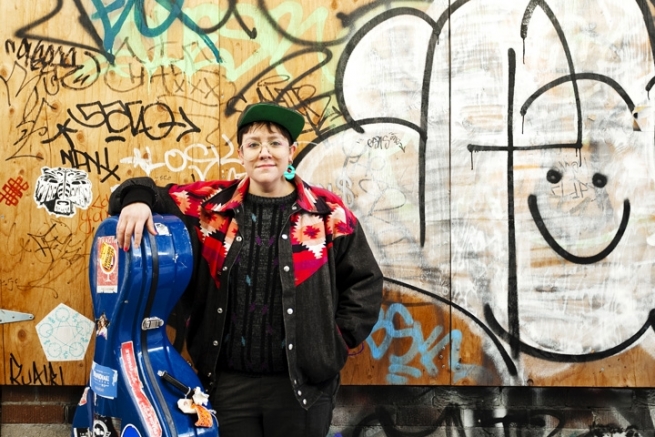 Some musicians fall in love with an instrument at a very young age and never look back; others experiment with many different ones before they find the ideal match for their talents. Cris Derksen is one of the latter. As a child, she first wanted to play flute, then saxophone, then double bass. Later, at the performing-arts high school she attended in Edmonton, Derksen played piano and clarinet before deciding for two reasons to focus on cello: unlike the bass, it fit into her mother's car; and it's incredibly versatile.
            "The cello has the same range as the human voice, and you can do so much with it," she explains. "With all the palettes and the machinery I use, I feel like I can create so many different sounds."
            Derksen creates undeniably modern music that mixes folk, classical, dance, and aboriginal structures and tunes with electronic beats and, sometimes, vocals. She crisscrosses genres, cultures, styles, and attitudes with evident pleasure and apparent ease. Watching her perform, it's astounding how many sounds she coaxes out of her cello: bowing, plucking, and tapping the strings, bouncing and rocking the bow against them, tapping the bridge to create a catchy percussive element, and gently hitting the body of the instrument with her hand to make it thump like a heartbeat. She then uses loop pedals, which she operates with her bare toes, to repeat the phrases she's played, and builds layers of sounds that she plays and sings over. It's a beautiful, open-minded approach to genre, and characteristic of Derksen's modus operandi.
            "One of the things I learned about making art is to take something you like and make it your own," she explains. "Contemporary and traditional have always been in my brain—incorporating the traditions of my aboriginal heritage into the new contemporary schools that I play in. It's almost like being a jeweller making a bracelet—you're going to pick out the stones that speak to you. So I take all these influences and create the bracelet that only I can make, because it's my perception of the world."
            Derksen, whose heritage is Cree and Mennonite, started taking piano lessons at five, and has been composing and improvising ever since. "I've always played my own music," she says. "My piano teacher told my mom, 'I don't think piano is what Cris is good at.' My mum thought that was weird, because I would practise every day for more than an hour. So she came to my lesson, and I sat down and looked at the notes on the page and went 'plunk.' And then I looked at the next chord, and went 'plunk.' My mum said, 'That's not what you've been playing at home.' And I said, 'Oh,' and played the song that I made up. So I've always been creating."
            Although she graduated from the University of British Columbia with a degree in cello performance, Derksen always knew she wouldn't end up playing the classical repertoire. "I knew I needed that training to get the technique, the skills, and the history," she says. Instead, Derksen began playing folk festivals. At one of them, she met Tanya Tagaq, who soon had her playing in Vancouver, Brandon, and Ottawa. "I was so lucky!" she recalls. "The day after I did my grad recital I played for Glenn Gould's anniversary at the Museum of Civilization in Ottawa; then we flew to Spain to play Womex. Most kids just out of university don't get to do that."
            After settling in Vancouver, Derksen began writing her own songs, incorporating her classical training and love of folk, and adding electronic beats. "I started using a loop station about four years ago—my roommate had it, and I borrowed it and tried it and said, 'Whoa, I need this!" she says. "And another roommate had a 1986 drum machine that made these super old-school hip-hop sounds, so I asked to borrow it. I use a drum machine, a loop station, and a guitar multi-effects pad. And just to make things heavier, I add a synthesizer." Derksen employed all these tools on her previous albums The Cusp (2010) and The Collapse (2012).
            But for her new album, Orchestral Powwow, mostly written in Fall 2014 and recorded in February 2015 for an anticipated April release, Derksen—who is now based in Toronto—is heading in a different direction. "It will be done with a band," she says. "It's not looped at all. I call it orchestral powwow; I think it's a new genre for most people. It's written for a small chamber ensemble: French horn, trombone, trumpet, tuba, and a string quartet and tympani. So it's completely different."
            She started with powwow performances sourced from the library of her record label, Tribal Spirit Music, which is also the home of A Tribe Called Red. "Basically, I get their library of powwow music," she says. "What Tribe does is chop them all up and make dubstep," she explains, "but I'm keeping them as full pieces and building the orchestra around them. I really don't know how I'm going to tour it—it's too big. But I feel like it'll happen. And because I have so many different facets, I feel this one doesn't really have to be a touring album. I just want to put it out."
            Derksen is nothing if not multifaceted. When we spoke in Fall 2014, she was involved with much more than composing music for her next album: she was creating sound designs for two plays slated for Native Earth Theatre's Weesageechak Festival; preparing for a performance with a drummer and dancer at Festival Mundial in Montreal, and a solo show at Toronto's Music Gallery; working on a soundtrack for a documentary on Canada's notorious pass system on First Nations reserves; immersed in a theatrical collaboration with director Emilie Monnet and Geronimo Inutiq (DJ Madeskimo); building community bridges with the Toronto multidisciplinary curatorial group Bold as Love, which brings indigenous and people of colour together on stage for live shows; and planning the fifth edition of the
Red Ride
, a five-week, cross-country tour with her friend Christi Lane Sinclair.
            "It's really important for instrumentalists to be multifaceted," she says. "To be a musician, to have different incomes, you have to be."
            In 2015, Derksen is also working with one of her heroes, Buffy Sainte-Marie. "She came to my house!" Derksen marvels. "She's my mentor for the year, thanks to an Ontario Arts Council grant, so we get to hang out for five days over the year. Before I see her next, I have to write a song starting from words and not from my cello, because I've written everything on my cello."
            It's an interesting challenge, even for so prolific an artist. "I create a lot," Derksen says. "Even when I don't have shows or collaborations, I improvise with myself. And the songs that stick are the songs that I remember the next day. Some of my best compositions don't come from my brain, but from elsewhere, from my spirit, when I take myself out of the equation and just let the piece come together.
            "It's good to take yourself out of it. I have a lot of deadlines and stuff. When it feels forced, those pieces are never as good as the stuff that comes out when I'm allowed to just . . . create."
FYI: Cris Derksen performs a free show at Toronto's Yonge-Dundas Square on June 15, 2015, from 12:30 to 1:30 p.m. She also performs at the 2015 Planet IndigenUS Festival (July 31-Aug.9) held at the Harbourfront Centre in Toronto. 
---
Image of Cris Derksen by: Nadya Kwandibens / Red Works Photography