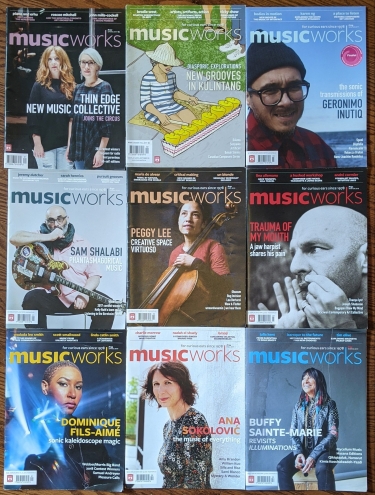 Who We Are
Musicworks inspires, connects, and broadens a global community of people with curious ears, who want to discover and better understand diverse and venturesome Canadian artists, practices, and ideas in music and sound through reading, following, listening to, or participating in Musicworks content.
Musicworks publishes a 64-page triannual print magazine and companion CD. It is the only curated and professionally edited Canadian source of in-depth writing on artists, new work, and emerging ideas in experimental music and sound art. Founded in 1978, the magazine is valued by both longtime and new readers for its unique yet wide-reaching scope. Many Canadian artists in the magazine rarely receive in-depth media attention beyond local outlets. By commissioning accessible, literary writing by veteran and emerging professional writers who are informed and enthusiastic about their subjects, Musicworks brings fresh eyes and ears to the work of these artists.
The Opportunity
Musicworks is seeking up to four (4) new directors to join our board. Musicworks' board consists of up to 10 individuals and is a stewardship/governance board. As a member of the board, you will provide strategic support and financial oversight to Musicworks. You will act as advisor and ambassador, bringing your particular expertise and insight to the organization and representing Musicworks to your network and the wider community. This is a volunteer position.
Beginning in January 2021, Musicworks will be creating a new strategic plan, and board members will take an active role in crafting and articulating a vision for the future of the magazine. During Phase 3 (Jan/Feb 2021) of Musicworks' digital strategy work, board members will be invited to participate in the development of board-related areas of the new website (eg. community outreach, stewardship, fundraising). There will also be opportunities for new board members to take on leadership positions on the board.
The Responsibilities
•          Attend all Board meetings, as well as attend, support and be informed about the organization's mission, services, policies and programs.
•           Keep current with the issues: review agenda and supporting materials prior to Board and committee meetings.
•           Serve on committees, attending meetings as required and offer to take on special assignments.
•           This is not a patronage board and there is no expected minimum financial contribution from board members. However, the organization does rely on donations for financial stability and board members will be expected to reach out to their personal networks and communities to help meet fundraising goals.
•           Assist the Board in carrying out its fiduciary responsibilities, such as reviewing the organization's annual financial statements, mission, by-laws, mandate and strategic plan.
What We're Looking For
We particularly welcome applications from people who identify as female, non-binary, Black, Indigenous, People of Colour, and those from traditionally under-represented populations. Please refer to our Board Recruitment Policy to find out more. As all board activities are currently being carried out on virtual platforms, we are open to applications from across Canada. Sitting board members are available to consult on the application process, and will prioritize dialogue with under-represented community members.
•           Passionate, committed individuals with a strong interest in Canadian artistic practice of all kinds.
•           Individuals with the skills and dedication to help Musicworks secure both artistic and financial stability and engage a new generation of readers, writers, and artists.
•           Experience or training in anti-oppression, allyship, and anti-racism will be valued
•           Previous board or governance experience is an asset, but we are also happy to find board training and professional development opportunities for applicants with no previous board experience.
Time Requirement: 5-10 hrs/month until the end of the committed term
Location of Board Meetings: TBA, Toronto, Ontario (virtual meetings until further notice)
To Apply
Please send a short statement (max. one page) indicating your interest in Musicworks and your resume/CV to the Musicworks Board [email protected].
Please also contact Musicworks at 416 977- 3546 if you have any questions.
The deadline for submissions is November 20, 2020.